OP Mock Trial Harvard Trip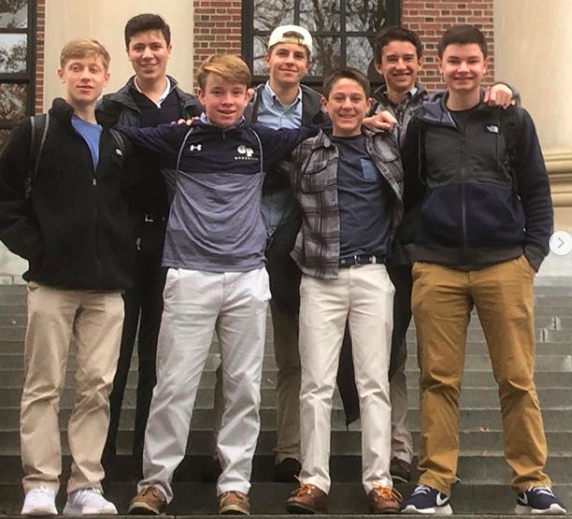 Two weeks ago, the Mock Trial team visited Harvard University for seminars about the tips and tricks of the different areas of Mock Trial. Seven returning members attended the trip over the long weekend, and Mr. Martin, who coaches Mock Trial, was the chaperone. As a part of the Mock Trial team, I enjoyed the trip very much and would love to go back in the future. Our team arrived at Boston via plane on Friday, November 9th and rented a car service to drive to us to the Doubletree, our hotel in Cambridge. The hotel was surprisingly nice and included a rooftop deck, indoor swimming pool, and, most importantly, was within walking distance of Harvard. We went out later that night to eat dinner at an Italian place called Regina's. After finishing our dinner, we stepped outside to be met with an extremely hard downpouring of rain. We were twenty minutes in walking distance from our hotel and were drenched from head to toe by the time we made it back to our hotel.
As we woke up early Saturday morning, we walked for fifteen minutes along the river to get to Harvard. The day was filled with seminars by experts and small sessions with Harvard's own Mock Trial team. At the end of the day, there was a social where the Harvard team performed a case as they would for all the teams attending. The most interesting thing about their team was that they were a student-run organization. No teachers or faculty helped them or coached them, but they were still phenomenal at what they were doing. The next day was Sunday, our last day at Harvard. On Sunday, we had a break for lunch that lasted for three hours. During this time we walked around the town of Cambridge and enjoyed all the different things the town had to offer. I had lunch at Shake Shack with a few of our team members while others ate at the burger places and Mexican restaurants only found in Cambridge. After lunch, we visited Harvard's team store and bought sweatshirts and hats that made us look like the biggest group of tourists one has ever seen. The rest of the day consisted of a thank you from Harvard for attending and the flight home to Newark. All in all, it was one of the best trips our team had ever been on, and we would very much enjoy going back before I graduate from Oratory.