OP's Empty Bowls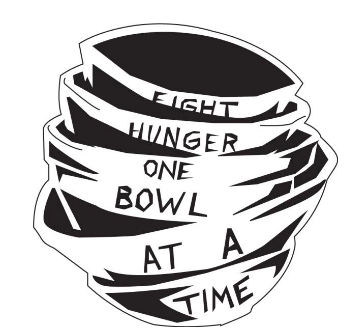 Following a snow-induced delay, the Fourth annual Empty Bowls fundraiser was in action on March 20th. This annual event is a great fundraising event and eye-opening opportunity for the members of Oratory Prep. All proceeds raised from Empty Bowls go to support efforts organized by the Bridges Foundation and also raises awareness about world hunger.
In the months prior, teachers and students from all areas of OP donated their time and talents to create the bowls that would be used for the special lunchtime event. This process was supervised by art teacher Mrs. Preston and members of the Art Club who guided and assisted with the creation of the bowls. These items were then hardened and glazed by more students to create the finished products that were seen on March 20th. In order to participate in the event, OP members had to donate $20 for a shirt and the simple soup lunch to support the Bridges Foundation.
On the day of the event, those who had donated were encouraged to wear their Empty Bowls t-shirts and were directed to a special area during their lunch periods. Those who had supported the cause got to pick a bowl of their choice and were then sent to get soup and bread. This simple meal helped OP students and teachers better appreciate what it is like to have a small serving and create more understanding regarding the problems of world hunger. As always, Empty Bowls was an extremely successful event, raising over $2,400 for the Bridges Foundation and continued to foster a deeper comprehension regarding the problems of world hunger. However, this great event would not have been possible without Godfather of East Hanover's generous soup donations, everyone who created the bowls, those who donated, and the tireless efforts of Joe Budisak, Andrew Lee, Mrs. Preston and all of the members of the Empty Bowls Team who helped to create this great event. Hopefully, we will be able to continue this tradition here at Oratory Prep for many years to come. Way to go Empty Bowls Team!!!
Photo Credit: https://goo.gl/3ZGDTX