NBA Power Rankings for the 2022-23 Season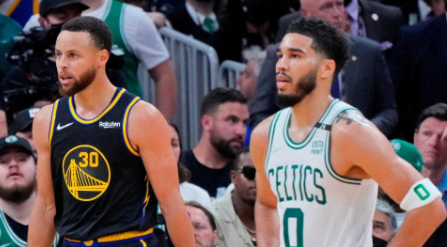 With the NBA offseason finally put to bed, and the new season about to start soon, it's that time of year again when everyone starts making predictions about who's going to win it all! We've seen many headlines like Donovan Mitchell and Rudy Gobert going their separate ways, Draymond Green and Jordan Poole's fight, as well as Kevin Durant taking back his trade request after sending teams and fans into an absolute frenzy throughout the entire summer! Nevertheless, I've got the psychic ability, and I'm going to successfully predict the best teams in the NBA this upcoming season!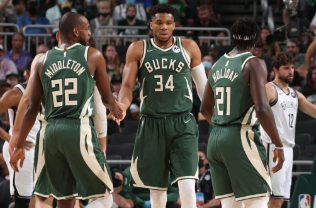 Milwaukee Bucks – Key Player: Khris Middleton
We could've really seen back-to-back titles from the Milwaukee Bucks last season if it wasn't for the injury of Khris Middleton. Giannis Antetokounmpo has truly solidified himself as the best player on this very planet Earth by taking the NBA finalist, Boston Celtics to 7 games without his partner in crime, and a very good partner in Middleton. The Bucks' ability as a whole, to be in a position to potentially make the Eastern Conference Finals when missing a presence like Middleton, is truly staggering. I don't think there's any better core in the NBA than Giannis, Middleton, and Holiday, and for that reason, they should be the favorites to win the NBA Finals. I couldn't care less about their 0-5 preseason record, give me the Bucks in 4!
Boston Celtics – Key Player: Robert Williams III
The last five years: 3 Eastern Conference Finals and 1 NBA Finals appearance. This Celtics core has been very good for the last several years and still hasn't even reached its full potential. With Jayson Tatum and Jaylen Brown still developing as their franchise cornerstones, there's no telling how far they can go this season. Despite this fact, none of them will be as important this season as Robert Williams. If Robert Williams can stay healthy, his elite defense will help the Celtics contain some of the most dangerous big men in Giannis, Jokic, and Embiid, and potentially lead them to a Finals ring.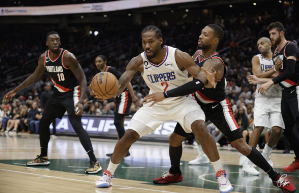 Los Angeles Clippers – Key Player: Kawhi Leonard
Not so fast, Celtics and Bucks, LAC is on the rise. In my opinion, the Los Angeles Clippers have the best depth in the league, almost making the playoffs without their two stars for the majority of the season, Paul George, and for the entire season, Kawhi Leonard. These two are the top 10 players in the league and wreak fear in the eyes of all teams in association with their elite offense and defense. Not to mention, Kawhi was averaging 30 the last time we saw him in the playoffs. With the offensive and defensive weapons they have on their team, the Los Angeles Clippers should definitely be title favorites.
Golden State Warriors – Key Player: Klay Thompson
Look I'm not trying to call the Warriors frauds or anything like that. I acknowledge that they are the reigning NBA champions, but from what I saw, they had to use the peak of their powers to achieve the feat, and I'm not sure they are capable of repeating this peak. Stephen Curry was playing like he was a top 5 player ever; Jordan Poole playing like a star every other game; Kevon Looney playing like prime Dwight Howard. With the issues regarding the Draymond Green punch to Jordan Poole, and what that's going to do for team chemistry unless Klay Thompson reminds us why he makes up one of the best duos of all time with Stephen Curry, I see the Warriors as heavy contenders but not NBA champions.
Denver Nuggets – Key Player: Jamal Murray
The dark horse to win it all this season is the Denver Nuggets. Nikola Jokic has been able to drag the Denver Nuggets to the playoffs without their second and third-best players, putting up historical numbers in the process, and becoming a back-to-back MVP. Now that Jamal Murray and Michael Porter Jr. are returning, a healthy Nuggets team can make waves in the Western Conference.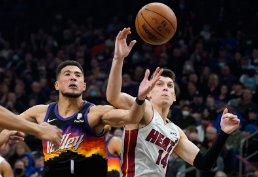 Phoenix Suns – Key Player: Deandre Ayton
I feel like I've done them dirty by putting them here because they had the best record in the league last season, but the Suns will be the 6th best team in the league this season. Getting eliminated from the playoffs by just Luka Doncic and Jalen Brunson is not a good look at all! Although we know that Devin Booker and Chris Paul will perform and lead this team to wins, it would take Deandre Ayton to achieve his potential of being a top 3 center in the league for the Suns to mount an NBA championship charge.
Miami Heat – Key Player: Tyler Herro
It might be time we start to acknowledge Erik Spoelstra as the best coach in the league, and because he's still coaching the Miami Heat, the Heat remains one of the top teams every year. With a combination of Jimmy Butler and Bam Adebayo, we saw the Heat make the Eastern Conference Finals, and being one shot away from making the NBA finals. They won't be enough to make it to the finals this year without a massive contribution from Tyler Herro in continuing to improve his offense and at least becoming an average defender.
Philadelphia 76ers – Key Player: James Harden
We have seen absolutely atrocious playoff performances from the 76ers and that wasn't any different last year. We saw them bow out of the playoffs last year, barely challenging the Miami Heat in the Eastern Conference Semifinals. A major reason for that was the poor play of James Harden. They already have an MVP-level player in Joel Embiid, but if James Harden can return to his former superstar/MVP level of play, the 76ers can make some serious noise this season.
Memphis Grizzlies – Key Player: Ja Morant
What a season the Memphis Grizzlies had last season. They won a whole lot of games and were able to challenge the Warriors in the Eastern Conference Semifinals without their star, Ja Morant, for the majority of the series. This is why it's important that Ja Morant stays healthy and keeps on improving his explosive game to make a difference for this Grizzlies team. If Ja doesn't lead this team to great things this season, talk may continue that the team is just better without Ja Morant.
Brooklyn Nets – Key Player: Kyrie Irving
It says a lot about the Brooklyn Nets that I was about to leave them off this list and actually put the Mavericks here instead, who were really going to be on this spot solely because of Luka Doncic. I decided against it though because of the star power the Nets contain, but things aren't looking perfect in Brooklyn. With Kevin Durant requesting a trade this past season and singling out the coach, Steve Nash, as well as Kyrie Irving's unwillingness to commit to the team, and his health issues, the most Championship-capable team on paper isn't even close right now. As much as the media try to portray Ben Simmons as the defining factor of the team, I think that we should expect Simmons plays his role well on this team. The difference maker then has to be Kyrie Irving. We know what a player Kyrie can be when at his best, but does he truly still want to be in Brooklyn and perform for them? Time will only tell.
Leave a Comment