Album of the Month: September 2021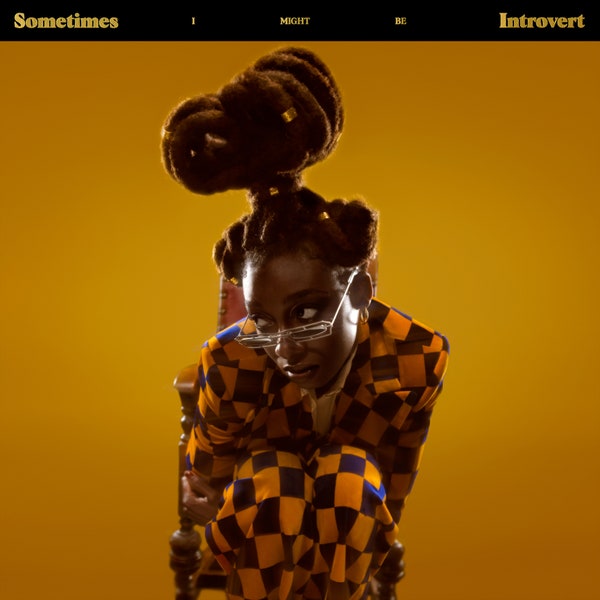 Little Simz has finally blessed us with her second full-length project after dangling the carrot over our heads, tantalizing us, and making us wish it was September since back when she announced the album back in April.  And let me tell you, it is AMAZING. But, don't take my word for it. Sometimes I Might Be Introvert has received universal acclaim and is the highest-rated album of 2021 on www.albumoftheyear.org and the second-highest rated on www.metacric.com. Little Simz has given us some of the most unique hip-hop in the past few years. That can be attributed to multiple aspects of her style. Sometimes I Might Be Introvert is experimental in its production, using styles, sounds, and instruments that are rarely seen in hip-hop. Aside from this distinctiveness, Little Simz is a female British rapper, making her audience even more niche. For that crowd and even for those looking for an interesting project, it is an essential listen. Simz takes us on a whimsical journey through her mind and familial issues backed by interludes that sound straight out of an animated Disney film. Following these tracks are hard-hitting hip-hop beats on "Speed" or sample-based production on "I Love You, I Hate You". Songs like "Protect My Energy" open up like a song from the 80s. It's so hard to describe but this album's diversity is unparalleled by any album I can even think of. The experience you get when listening to Little Simz is something you can't get anywhere else. I never knew that this was the type of music I needed; it's so unlike anything I've ever listened to. Simz strings together all of her ideas so beautifully and the instrumental arrangement only add to this. The project is undoubtedly 2021's most experimental Album of the Month, but that does not take away from its merit in the least.
With only two features throughout the album's nineteen tracks, Little Simz easily carries the album with barely any help. The razor-sharp lyricism of Simz is on full display and you have to watch out for the messages she carries between her thick London accent. The theatrics of the skits never get too overwhelming; the music is always the focal point of the work. Simz is one of the most creative visionaries in the hip-hop landscape today. Paired with the fact that she is one of the best female rappers and makes a strong case to be among the pantheon of best rappers today, I have no doubt that she deserves this Album of the Month and possibly more. To wrap this up, I don't have enough words to describe how much of a masterpiece this project is. Brilliant, confident, and insightful. All I can say is that you need to take a listen. I hope it enthralls you as much as it did me. 
After listening to Sometimes I Might Be Introvert, the award was not up in the air anymore. Yet, I still listened to many more albums that came out this month.
Yebba's newest album Dawn turned some heads but overall didn't make a lot of noise. It reminds me a lot of July's Sling from Clairo. Both Dawn and Sling are female alternative singers who have beautiful voices over mediocre at best production. The only glaring difference is the two tracks on Yebba's project "Far Away" and "Louie Bag" both with features from some big names in the industry. The former has an A$AP Rocky feature which in and of itself is great, but hearing it was astounding. Rocky's verse on "Far Away" is definitely in contention for one of the best feature verses of the year. On another note, Smino's feature on "Louie Bag" is great and fits perfectly with the vibe of the song but it feels like it's missing something. Aside from these two tracks, Yebba's second project was mostly a flop. Nothing really stuck to the wall on this project, save "Distance" a ballad towards the end of the album. Good idea, but less than flawless execution.
Speaking of Yebba, there is a track by the name of "Yebba's Interlude" on Drake's new project Certified Lover Boy. As we all know, Certified Lover Boy came out this much, to a ridiculous amount of anticipation. It seemed like everyone was waiting for this album, especially since Donda had already come out. After many delays, a slew of singles (of which none ended up on the album), and the whole world waiting, the album finally came out on September 3, 2021. And… it wasn't great – or even good – for that matter. The album begins with "Champagne Poetry," a fan-favorite track, which immediately excited everyone for this project, and then it all goes downhill from there. Filled with so many forgettable tracks, corny drake bars, and underwhelming features, this album is a DRAG. It doesn't even sound like Drake's interested in many of the tracks. His delivery sounds stale, his production is boring, and his song structure hasn't changed since 2015. Overall, this album just sounds so bland; I've listened to the album five times over and I still can't tell you what half the songs sound like. The part I was most excited about was R&B Drake, but it is so boring. His vocals sound off-beat, his singing sounds strained, and the instrumentals do not fit the track. That might have been the nail in the coffin for me because there are a couple of great tracks on this album, but not a single one of them is an R&B cut. Had this album been ten tracks, it could have been solid, however, Drake hasn't learned from his mistakes and gave us yet another bloated, bland album. What a shame. 
While Album of the Month has, for a while now, been sitting comfortably with Little Simz, there were quite a few other notable albums this month that I wish to mention. First off, a highly anticipated record of mine was The Melodic Blue by Baby Keem. I loved his earlier work, so my expectations were fairly high, especially after his singles. However, the album just fell short of what I was expecting. First off, almost none of the earlier singles were on the album, except for "family ties," and "durag activity." The rest of the album juggles between songs sounding like Baby Keem was just messing around in the studio, to very serious, melodic cuts. The album did not feel very cohesive at all, not to mention the long-winded tracks that were often multiple parts and over four minutes. This would usually be no issue, but considering the genre of music Baby Keem makes, I can't add half the songs to a playlist because it feels like it's three different songs in one very long track. It makes it very hard to stomach because a song will transition from very abrasive content to a slower tempo attempted R&B ballad and back. However, it's not all bad. Tracks like "16," remind me of his older melodic work and are refreshingly honest. Not to mention certified bangers such as "vent," or "range brothers." Overall, this was a solid debut studio effort from Keem. His potential is high but he's got a long way to go. 
Continuing on the topic of albums, Lil Nas X released his long-awaited debut, Montero, this month to pretty good reviews. It's a relatively safe record, and the best songs are arguably the singles, but it's an enjoyable listen for anyone who liked his previous output. Highlights on this record include "TAKE WHAT YOU WANT," "LOST IN THE CITADEL," "TALES OF DOMINICA," and, "AM I DREAMING." The album's strongest quality is his ability for catchy hooks and great production throughout, and the project is mostly a mix of pop and pop-rock music. There's nothing new the album really has to offer, but if you have any interest in pop music or songs that will get stuck in your head for days, it's a respectable debut album.
Nessa Barrett released her debut EP, Pretty Poison, this month, and it's one of my favorite projects of the year. Pretty Poison feels very refreshing considering what's out in the pop world right now. The instrumentals are piercing, her vocals are loud, and the energy is there. Her songwriting is relatable and honest, which makes for album highlights like "keep me afraid," and "pretty poison." There is not much to say about this project but it's like twenty minutes long and a great debut, so I highly recommend it. On the topic of EP's from this month, my personal favorite album of the month has got to be HUES. by Unusual Demont. I'm going to be honest, I had no clue who this was, but I saw a Twitter page promoting the EP and I was extremely impressed. The project is a fusion of R&B and soul, with hip-hop elements scattered throughout. His strengths are undoubtedly his voice and production, creating colorful atmospheres with emotional performances. Songs like "VANTA," and "AMBER," are very great melodic tracks to listen to when you're in the mood, while a song like "DAFFODIL," is a great lofi-esque hip-hop track. Unusual Demont is very little known, but out of any album I can think of in recent memory, I would recommend this one the most.
In conclusion, September was a pretty good month for music. There was lots of hype surrounding this month's drops with some exceeding expectations, others not delivering and some falling right in the seams. I sound like a broken record saying this, but Little Simz absolutely carried this month with Sometimes I Might Be Introvert. Take a listen; I highly recommend it.