Album of the Month: July 2021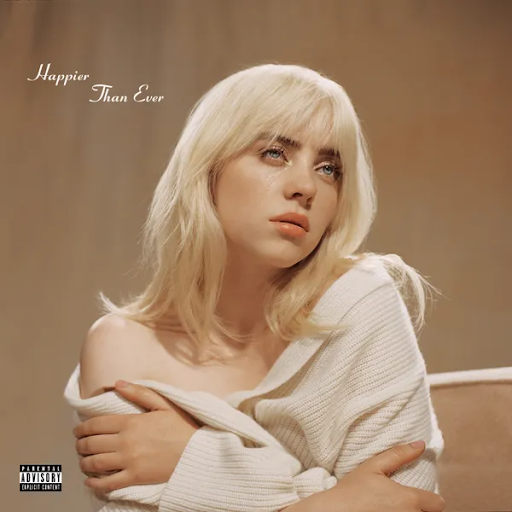 July has given us multiple qualified projects for Album of the Month but none are as cohesive or consistent as Happier Than Ever, the second studio album from one of the popular female artists of this generation. Though Billie has only been a huge name in the music industry for three years now, the impact she has made is immeasurable. Billie is easily recognizable and her popularity both in music and outside of it is on the rise. She has found an original style that fits her personality and voice. Billie is a new person on Happier Than Ever and contrasts the Billie we saw on the more dark and eerie WHEN WE ALL FALL ASLEEP, WHERE DO WE GO? Even though she has completely changed her look, style, and topic matter, the music community seems to adore her even more, something many people did not think to be possible. 
For a pop artist to survive, you have to do something different but not too different. Billie perfects this fine line between pop and experimental music on this record. The production is unlike any of Billie's old music or anything put out by other top pop artists like Taylor Swift, Ariana Grande, or Dua Lipa. Some tracks, such as "Oxytocin" or "Therefore I Am", show how Billie can give beautiful vocals over downtempo bass-dominated beats. Billie's voice is one of the key factors of her success, but the fact she knows how to manipulate her voice in a multitude of ways is what grants her a diverse portfolio of genre-bending songs under her belt. The album's theme focuses on teenage stardom and its effects, a concept we've heard a few times before, it's not treading any new water, but Billie understood the assignment and delivered. Even though she experienced and continues to experience arguably the largest teenage fame ever seen, Billie worked in the shadows to perfect her sound.
"Happier Than Ever", the title track, especially solidifies this point; the track is truly perfection. Opening with a quiet guitar strum and immaculate yet impactful vocals, "Happier Than Ever" discusses Billie's relationship with her ex, as well as the impacts that stardom has had on her life. In the song, Billie explains, "When I'm away from you, I'm happier than ever", talking about her relationship with her ex-boyfriend. The track later divulges into a power ballad where the guitar turns electric and Billie's vocals become thunderous. On the bridge right before the track turns from a quiet anti-love song to a roaring anti-love anthem, Billie states, "You made me hate this city." Fame can be overwhelming and Billie hates Los Angeles because of the pressure the world and her ex put on her to be perfect. Billie later exclaims during the most impactful verse of the song, "Don't waste the time I don't have." Time is not to be wasted; it is a valuable resource that not one human being has enough. Time isn't expendable for Billie or for anyone, especially when you can be spending that time working on yourself instead of trying to fix someone you can't fix. This song works together with the album as a whole perfectly and I can't stop listening to both the title track and the entire project. "Happier Than Ever" is undoubtedly the best song on this entire album and one of the best songs of the year; it is imperative that you listen to it. The entire project is a mature and delightful departure from Billie's old style and it breaks the ground for her imminent future as one of the most established pop musicians ever. Now, go listen. 
Aside from Billie's metamorphosis into a new musician and new person, July was only an okay month for music. Isaiah Rashad finally came back after his five-year hiatus from his last project, The Sun's Tirade, in an interesting fashion. Rashad returns after such a long break with not much change in his musical style. For such a long gap between albums, many were expecting a different direction from Rashad and many fans were hopefully following "Headshots" and "Lay Wit Ya", two singles from the project. Many people, including myself, listened to the album and thought the music was good but there was no peak or substance. Anthony Fantano, one of the internet's most famous music reviewers, stated the album was "about as engaging as a lackadaisical buzz." I couldn't agree more. The album itself is overall a solid project but it seems more like a mixtape and was definitely not worth the wait for many Rashad fans. A few tracks off the record are honestly amazing and coincidentally, half of the best songs on the album were singles, leading many people to get let down when most of the project didn't live up to their predecessors. "Headshots" and "Lay Wit Ya" are must-listens as the former is a classic Isaiah Rashad song with a catchy chorus and tune and the latter is a great chill yet hype trap song. Aside from these two singles, I personally recommend "Claymore" and "Wat U Sed". Both these tracks consist of amazing production and great features from Smino, Iamdoechiui & Kal Banx. I liked the album more than most people. I can listen to the project as a whole, it's not as boring as people make it seem to be. However, it's nowhere near his older work.
Third on the totem pole of July records is Clairo's Sling. Sling suffers from the same disease The House Is Burning suffers with: poor execution of a solid concept and undeveloped and unfinished songs. "Amoeba" is an amazing song and is arguably one of Clairo's best but aside from that "Amoeba" and one or two others out of the 12 tracks on the album, the album is not memorable whatsoever. If you need some great vibes and good production to put on as background music for studying or working, Sling would work great. Thematically, Sling is great and the lyricism is top-notch compared to Clairo's contemporaries. As an album though, it doesn't have nearly the sting that other female artists have in their albums. If you're looking for female artists that have similar albums with much more meaning and are less repetitive, there are many to choose from.
The last two notable projects this July comes in the form of hip-hop albums from two artists who have solidified their place in the rap community. Vince Staples released his eponymous fourth studio album this month and IDK, that's his name just to clarify, released his second studio album, USEE4YOURSELF. Both albums, unfortunately, did not impress most fans especially IDK's follow-up to his acclaimed album Is He Real?. USEE4YOURSELF breaks some new ground for IDK and he experiments with downright weird ideas and production. Unfortunately, it's not nearly as polished or successful as his calculated risk of a first album and is honestly a disappointment for most fans. The project is not cohesive whatsoever and random features seem to steal the limelight from IDK on almost every track. I would recommend "Pradadabang" and "Shoot My Shot", the two good singles off of this whole project. The lyrics are confusing and the theme doesn't make sense. IDK prides himself on perspective and seeing the world from different angles but from all the angles I've tried to explore this project from, it still doesn't cut it for me.
Vince Staples's Vince Staples, on the other hand, is an overall much better project. It's nothing special and is just a vibey EP from a promising rapper. It's just classic Vince Staples music with different production compared to everything else he's put out. I give Vince props for taking a risk like this. It didn't pay off entirely there are still some flaws in the work. Many people don't see it as a risk at all and think that Vince was playing it safe by giving melancholy and boring verses over beats that are nothing special. However, if you're looking for vibey music from a great rapper, this is more than enough. The album is produced by Kenny Beats and I honestly never would've guessed because it's so different from Kenny's other works such as 2020's UNLOCKED with Denzel Curry. Every song feels good and it's overall just an average album. I would recommend Big Fish Theory and Summertime '06, two of Vince's other albums, before this. 
Album of the Month for July was an extremely easy choice, but that's not to say there wasn't good music that came out besides Billie's masterpiece. Unfortunately, most of this good music came from various places and there was not one album that had as much great music in one album as Happier Than Ever. That made my job as the reviewer very easy.