A Day-by-Day Analysis of Mr. McCrystal's Wardrobe Choices
On February 25, 2021, Mr. McCrystal walked into Bain Gym, attempting to emanate a commanding presence. Unfortunately for him, he happened to be wearing a horrifying outfit (no image found) consisting of boring khakis, an "unfortunate" light blue quarter-zip, and heinous brown boots. You are very lucky there is no evidence of this outfit; it truly disgusted us. As a natural response to his taste, or rather lack of taste in fashion, we assumed the role of the fashion police, and let him know of our disappointment. This experience inspired us to document his outfit each day at school in March 2021 ensuring that he would not return to his old, despicable ways.
March 1st, 2021:
Mr. McCrystal was spotted in Room 209 during CWP with a much better sense of fashion. It looks like we might have put some sense into him because he looks nice! He decided to go for a navy blue quarter-zip, this time actually matching the brown of his boots, complementing each other's darker, earthier color schemes. His khakis remain boring, however, the school dress code only allows for so much style.
6/10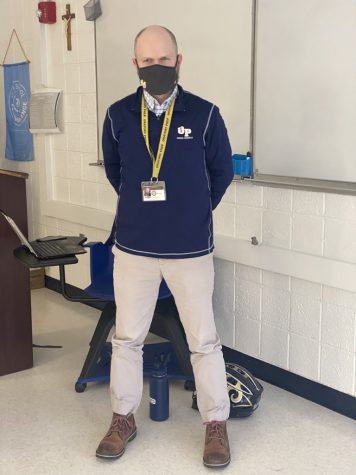 March 2nd, 2021:
We walked into Room 209 today, pleasantly surprised by Mr. McCrystal's choice of outfit. We had been impressed by the nice sweater, the new shoes, and the black khakis, however, that mask has got to go. He's worn it twice now, and we're just about ready to take it off his face. This would have been the only issue, however, in our peripheral vision, we saw something worse – the neon socks. We don't want to talk about it.
It WOULD have been a 7/10!
However, the socks and mask make it a 3/10.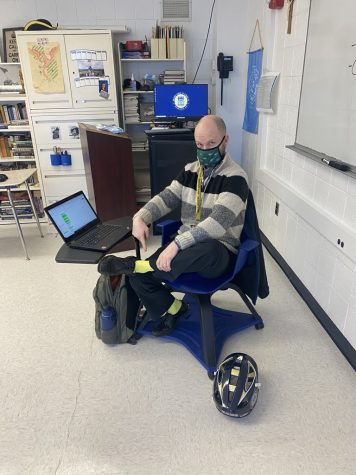 March 3rd, 2021:
At this point, Mr. McCrystal likely assumed the joke was over and we would stop taking pictures of him. He was incorrect. Attempting to escape the premises via DeGaeta Hall, he was found in an unsuspecting sweater, a darker variant of the previous day's outfit. To pair with this, he wore classic khaki pants and nice-looking dress shoes. Overall, we were impressed. The sweater paired with the navy on his shoes was fantastic. Good progress so far!
8/10
March 4th, 2021:
We had already determined at this point that Mr. McCrystal needed to get rid of his Jets masks. Even worse than his continued use of these masks was the fact that his shirt, mask, and backpack were all different shades of green and they did not complement each other well. The vest is a good selection and is the only thing saving this outfit from being a total flunk. Not as bad as the first day but definitely the worst we've seen so far. Very troubling regression.
2/10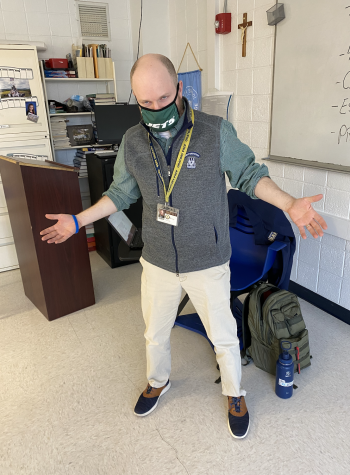 March 5th, 2021:
It still amazes us how he managed to pull this off. Mr. McCrystal completely destroyed all of his previous outfits with this amazing fit. Showcasing his amazing sock game, this outfit features a classic solid navy mask along with a comfy-looking quarter-zip. Those shoes are easily the nicest we've seen so far. Along with this, he matches the backpack with the rest of his outfit. His stance is also very commanding and almost ominous. Fantastic showing today!
10/10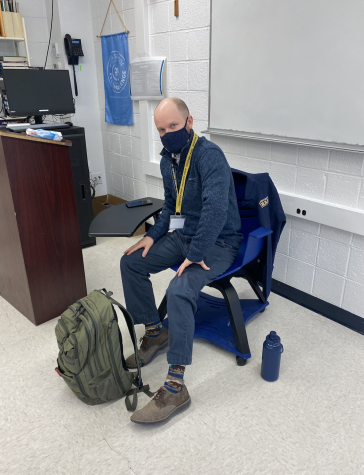 March 8th, 2021:
It must have been a long Monday for Mr. McCrystal today. This picture, along with an above-average outfit, shows Mr. McCrystal taking a little snooze on the job. Either that or he was blinking but we'll go with whatever gets him in trouble with Mr. McGowan more. The weather and pants are both alright at best and honestly quite bland. The socks and shoes in this outfit are the real highlights.
6/10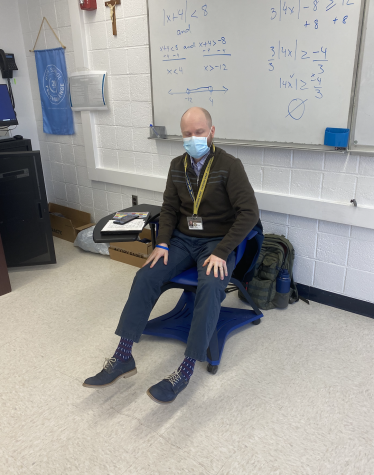 March 10th, 2021
Spotted in the Athletic's office, Mr. McCrystal is rocking some interesting socks but it seems like he's trying to flex them. It comes off a little bit needy; we think he's trying too hard. The shirt and socks do match quite well and we'd be lying if we said we didn't like the outfit. Although the brown on the belt and shoes don't match and his color picking downgraded, the outfit is okay.
6/10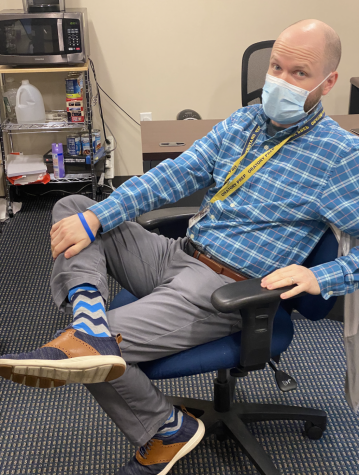 March 11th, 2021: 
Well, look what we have here. It looks like Mr. McCrystal is preparing for his first day of school. He's just trying to play it cool and look all swagger with his hands in his pockets but all of us can see right through it. There's really not much to talk about today regarding his outfit. He put together some nice matching with the Oratory mask and… wait nevermind that shirt is navy and white not black and white. Mr. McCrystal should know better by now than to try and match black and navy.
3/10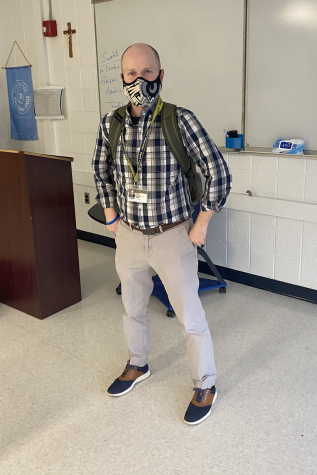 March 12th, 2021
So, we're very conflicted on this outfit. For starters, this Friday was the Summer in the Winter Contest and we kind of hoped Mr. McC would go all out with some Hawaiian shorts and sunglasses. He did not necessarily disappoint as he came in with a very nice floral shirt. As this was the last day in school before spring break and in turn before St. Patrick's Day, Mr. McCrystal had to wear his Irish socks. They don't match in any way with the shirt but we've gotta respect it, unfortunately. We can't take off points just because he's Irish.
6/10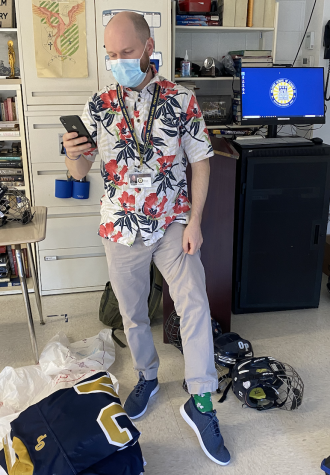 March 22nd, 2021:
We caught the man on his way back to Room 208 for a nice Quiz Bowl meeting. We really like the quarter-zip and pants combination, it looks quite comfortable. It does however look like Mr. McCrystal is somewhat concerned in this photo. It might've been those post-spring break blues or a lackluster Quiz Bowl team but Mr. McC seems kinda out of it. We can't see his full face but he has nothing to be ashamed of; this was a solid outfit. Hopefully, he cheers up for tomorrow.
7/10
March 23rd, 2021:
This is overall a nice effort from Mr. McCrystal. The jacket is very very nice, we're surprised we haven't seen more of it throughout this month. The man in question is seemingly typing away on his phone. Although we can't see much of it, his shirt looks pretty nice, the light blue contrasts nicely with the dark blue jacket. The grey pants are also a nice touch. We find that as long as the pants aren't boring and overused beige khakis they look very nice. Not too shabby.
6/10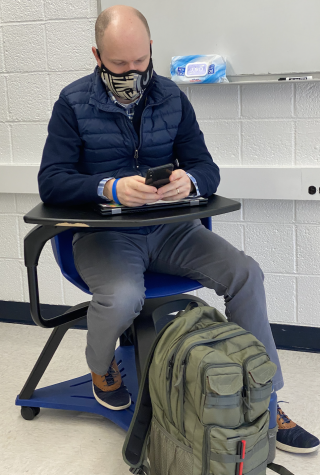 March 25th, 2021:
We have absolutely no idea what he's attempting to do in this photo. Is he trying to emulate someone? Is he trying to give us a supervillain stare? Whatever it is, it's only a medium of showing us his outfit from today which is quite bad. Hear us out, it's not horrible but that blue on the pants mixed with the blue on the quarter-zip does not look good over photographs. We don't even have to mention the blue in his shoes, his mask, his bracelet, shirt, and even the man's eyes. It seems Mr. McCrystal is a very blue man, he has a reason he's not ending this month very well.
4/10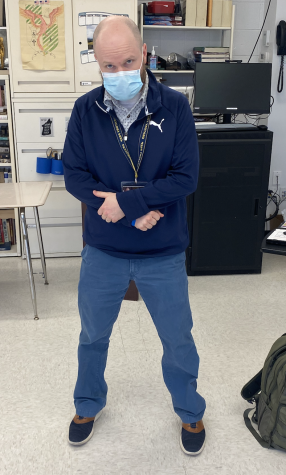 March 26th, 2021:
I know we just previously said beige khakis are falling out of style but sometimes you just gotta go for that classic look. The Oratory quarter-zip with a nice golden emblem on the back with khakis and classic brown boots are a phenomenal choice to end the month. This is as classic as it gets. Mr. McCrystal strikes us a nice historian-like pose looking off in the distance almost as if to say, "There are many more amazing outfits to come." That's all we can hope for. We hope he learns as much as we have from this experience and continues to dress well for years to come.
8/10