Michael Townsend, a Great New Addition to the OP Family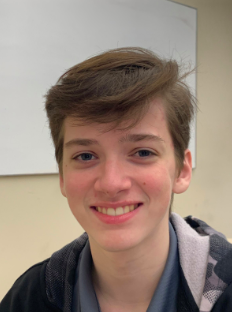 Michael Townsend is a new student here at Oratory Prep and has become a very apparent and crucial part of the freshman class. His English accent is the first thing I, and probably everyone else, first noticed about him, and although his home country still runs through his veins, he has learned and adapted to his life here in America. He is part of the Saint Philip Neri Club here at Oratory and has done many other things to help contribute to the Oratory Prep community.
Townsend was born in Oxford, England, at the John Radcliffe Hospital, and lived in England for a little bit more than four years, while also moving back and forth from England to the U.S. for business-related reasons. He finally moved permanently to the U.S. at age eight. Although he is English, he is also South African from his mom's side of the family. He learned how to speak when in England which explains his English accent, something that will most likely will not change considering he's had it for his whole life. He goes to England about every other year, and in the years in between, he goes to other places besides England. He told me that the biggest differences between England and the U.S. would have to be the different measurement system, and he also says it's weird how when he goes to England he's considered American but when he's in America he's considered English. He has had to get used to the slang here because at first when he used strictly English words in the U.S., no one would know what he was talking about. The schools, while mostly the same, also have small differences when looked at side by side. In England, they focused more on chemistry at a younger age while here in the U.S. we don't look deep into it until high school.
Michael Townsend is one of Oratory's few out-of-country students and has a very unique and interesting history as you learn more about him. Although he has just begun his Oratory career, we can expect a lot of great things from him in the coming years.