Handball Happiness at OP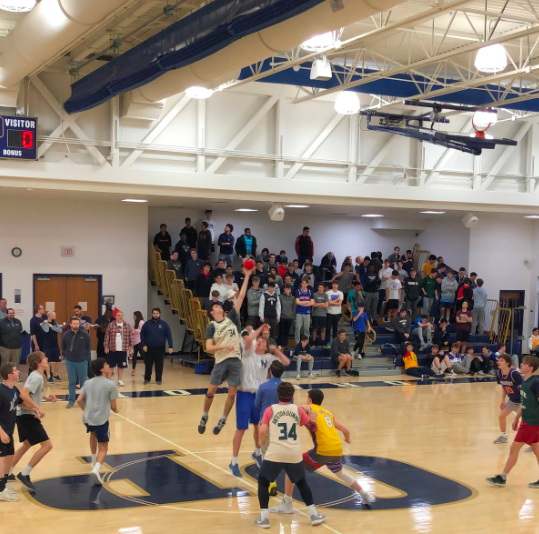 On Friday, February 7, the OP school community gathered in the Degeata gym for the 2020 handball tournament. This year was a record for school participation, with over 25 teams competing. To celebrate, Mr. Martin generously gave a free dress down day. The competition and skill this year definitely lived up to the hype of 25+ teams competing. 
First, we should recognize our two refs for the event, Mr. Maybe and Mr. Blauner, who through their expertise were able to make calls with the utmost precision, allowing for more fun, fair, and enjoyable experience for all players and spectators. It is no question that they developed these skills through practice before they were on the big stage, in the gym classes they both teach. Their consistency over the lengthy hour and a half of meticulous observation proved that they are the finest OP has. The photo below exhibits their conscientious reffing: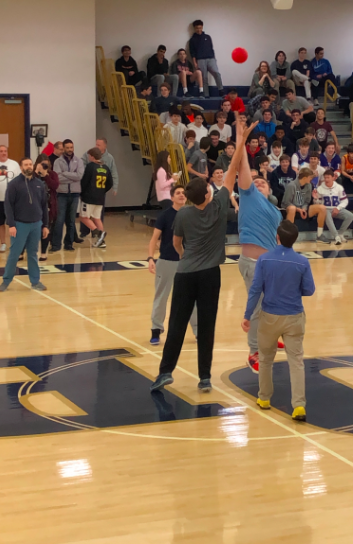 A group of competitors in this year's tournament that really exceeded expectations was the teachers, who proved that they too were able to live up to the high standard of talent. Mr. Geartner was one of those teachers. Although he received some criticism for seemingly letting in two goals causing The Lads to lose, the reason he was the goalie in the first place seemed to be more of a management issue of The Lads, especially considering his exceptional performance as a field player the game before. Truly a shame that Oratory could not see more of his excellence on the handball court. 
With this being said, two teachers who really exceeded in net as the backbone of their teams were Mr. Tafel and Mr. Kaounis. To say Mr. Kaounis carried Team Laurie is an absolute understatement. Not only did he shatter the will of the opposing teams by making save after save, he was the one who kept his team mobilized, active, and motivated. Mr. Tafel, whose slight lankiness would cause a notion that he would not have succeeded in goal, defied all odds through his simplistic playing style, intimidating disposition, and his coordination of his own squad, Tafel's Tyrants. Such is seen in this action photo below: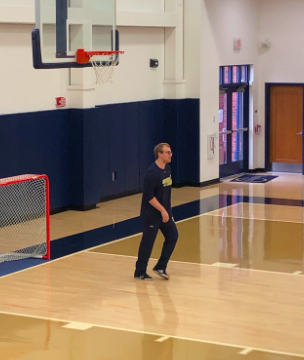 Perhaps when the teacher's performance capabilities were best seen during the event was when the team Adam Matos, Anthony Millan, and Angus Kupinas was on the court, a team with only four students on it. Special shoutout to Mr. Mccrystal for his incredible handling and shots while being heavily contested. 
If there was an award for most hype moment, it would go to senior Jack Lawlor, who after being cheered on by many, scored on an absolute rocket of a shot. The whole gym was electric after his goal. A notable mention, however, is Ben Landis's behind the back goal, which had the whole gym shocked. That was certainly a first for everyone, and I can only predict that the same move will be a recurring event for years to come. 
The final match, in a fairly expected manner, was between two senior teams and was very fitting. Integrity faced off against Impeach Felitto. I can say with confidence that Integrity's Ty Cross was the most influential player of all whenever he was on the court. His long leaps, quick direction changes, and well-placed shots certainly made him a valuable part of his team. Another honorable mention is Jeremy Arroyo-Flores, who willingly accepted pain as a part of the job in goal. He endured two back to back shots to the chest, and still hopped right back in net for the next game. That next game was the final. Impeach Felitto, on the other hand, had some more well-rounded talent, with multiple players being able to consistently contribute to the scoring effort each game. Consistency certainly proved to be key, as Impeach Felitto took the win by a lead of four goals. Congratulations to them. 
Handball was especially fun and fiercely competitive this year. With so many teams competing, such a nature was inevitable. It can only be reasonably predicted that the trend of mass participation will continue, providing handball with an ever-promising future.