Why 2020 Will be Running's Best Year Ever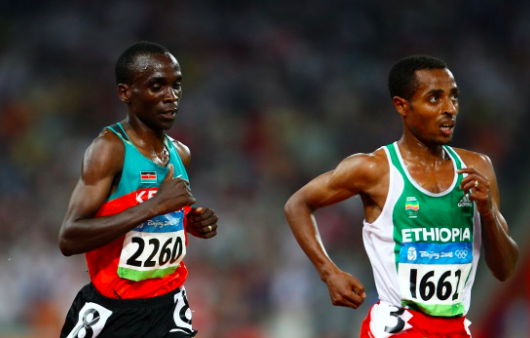 I can confidently say that 2020 will be a year with some of the best running talents going head to head and smashing world records. In almost all major distance disciplines, ranging from the mile to the marathon, the current world records in the mile, 10k, and the most probable, the marathon, are in serious contention. This should make for some exciting races, primarily the mile and 10k in Olympics, and the London Marathon. 
In distance running, the 1600m is perhaps the most exciting event of them all. The reason? In truth, a mile is a distance everyone is familiar with, and so when a nonrunner sees someone run the mile distance in less than 3:50 seconds, they will be attracted to that event, as they will be familiar with just how fast a sustained pace that is. The most notable world record contender is Yomif Kejelcha, who, in March, broke the indoor mile world record running a time of 3:47. The most notable thing about this achievement is that he beat Hicham El Guerrouj's record in the indoor mile by two seconds. For nonrunners, El Guerrouj is arguably but most probably the greatest distance runner of all time. His world records in the mile, 1500m, and 2000m have not even been closed to touched since they were set in 1999. If Kejelcha was able to smash El Guerrouj's record on the indoor facility, what he could be capable of on an outdoor track could be scary. Of course, it will be largely based on competition, and with talk of esteemed 1500m specialist Matthew Centrowitz entering the mile, it could be a race that will be logged in history.
Youtube.com
Next up for the Olympics in running is the return of the Great Mo Farah, who after retiring from the track in 2017, will be making a return to it in Tokyo 2020. Mo Farah retired from the track to pursue the marathon and half marathon, which he has been quite successful in. Regardless, he made the announcement of his return to the track via youtube in late November and has been training accordingly since. Above I made the claim that the 10,000m world record is in serious contention. It is, but I do not believe Mo Farah will be the person who breaks it. Although Mo Farah won the 5000m and 10000m in both the 2012 and 2016 Olympics, he never really came close to breaking a world record. How, then could he win all these esteemed races? Mo Farah had an excellent racing strategy, and was essentially in control of the whole pack of runners in each of these races. Known for his famous last lap sprints, Mo Farah would control the race at a slow pace and then absolutely blow away from all the competitors who could not adapt to that speed so quickly on the last lap. The result was a gold medal but times pretty far off the world record. If Mo Farah can't break the world record then, who will? The 10000m road world record was broken in January by Ronex Kipruto, a very promising talent. His time was 26 minutes and 24 seconds, just 7 seconds off from Kenenisa Bekele's track 10,000m world record of 26:17. To be 7 seconds off the track world record, from a road race, means he will at least be in striking distance of a new world record. Going back to Mo Farah, I do not expect that he will break a record nor win the 10,000m. After racing for so many years, so many athletes are aware of his race strategies that have a very easy counter: run at a fast pace from the start. Surrounded by young runners who can put up some impressive times, I do not think Mo Farah's race strategy will work. If the race were to go as I predict, a world record is practically a guarantee as it will be a race based on pure endurance capabilities. 
I've saved the best for last by not speaking about the marathon earlier. Of all these events, this is the one I am personally most excited for. Over the past two years, two marathoners have erupted in popularity. Eliud Kipchoge and Kenenisa Bekele (Current 10,000m and 5,000m world record holder), are two very esteemed marathoners. Kipchoge did run a 1 hour 59 minute 40-second marathon, but it does not count as an official world record for various reasons. Regardless, the official world record is also held by Kipchoge of 2 hours, 1 minute and 39 seconds, which he set at the Berlin Marathon. The following year at the Berlin marathon, Kenenisa Bekele ran 2 hours, 1 minute and 41 seconds. Kipchoge was not in the marathon that year, and Bekele was not in the 2018 Berlin Marathon where Kipchoge set the world record. What will be seen in the 2020 London Marathon is these two marathoners running head to head, and this will most likely settle the debate of who will be known as the greatest marathoner of all time. My prediction? The previous world record will undoubtedly be broken, and the question this time is whether or not the two-hour barrier will be officially broken. Since Marathons tend to be extremely calculated events, kicks aren't really commonplace, but when two of the greatest are racing next to each other, some historic times could ensue. 
Overall, with three major distance events having world records in contention, this could be an extremely historic year in running.