Father Jomon Brings a Saint's Relic to OP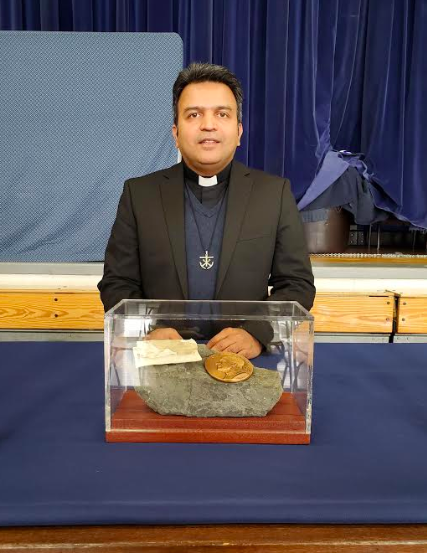 Recently, Oratory Prep got a special visit from Father Jomon Kalladanthiyil, CSC (Congregation of Holy Cross). With him, he brought a first-class relic of Saint Brother André Bessette. For those who do not know, a first-class relic means it was an original part of the saint (their bones, blood, or organs). While some can find this mildly disturbing, these relics are very honored as they contain the body of one of God's Chosen people. With him, Father Jomon brought a medallion containing the blood of Saint Brother André.
Father Jomon and the relic he brought with him both come from Saint Joseph's Oratory in Montreal, Canada, the largest shrine dedicated to Saint Joseph in the world. Despite its similarity in name to our own Oratory Prep, Saint Joseph's Oratory is a monastery and a resting place for the relic of Saint Brother André. The monastery is essentially a giant church, built by Saint Brother André but dedicated to Saint Joseph, a saint Saint Brother André himself honored greatly and whose intercession this first Canadian-male heavily relied upon.
Father Jomon is quite the worldwide man himself. Born in India, he studied in France and is fluent in both French and English. Then he was asked to move to Montreal and reside at Saint Joseph's Oratory. Father Jomon now works with his team to display the relic across the world in honor of the 10 year anniversary of the canonization of Saint Brother André. Father Jomon has been starting his journey across the world, starting in Canada and moving into the United States, and hopefully, by next year he can reach into France, India, Bangladesh, and many more countries. 
During an assembly on Thursday, January 30th, Father Jomon presented Saint Brother André's impressive story, surprising the students with this saint's journey to sainthood. After his presentation, he allowed the school community, including some visitors, to be blessed by holy oils of Saint Joseph, closing the day with a reverent tone.
Finally, I asked Father Jomon if there is anything he would like to say. He left one message for our school community: "I have seen lots of miracles due to Saint Brother André. There have been couples praying for children who have children, men praying for marriages who get married, the sick pray for health and are healed. I believe in science but I know that Saint Brother André is providing miracles to all of these people." In the end, the Oratory community took a lot away from Father Jomon's visit. From his Oratory to our Oratory, Father Jomon's message rings clear, urging us to pursue our lives in faith and God.