An Interview with Mock Trial Captain Joe Marchese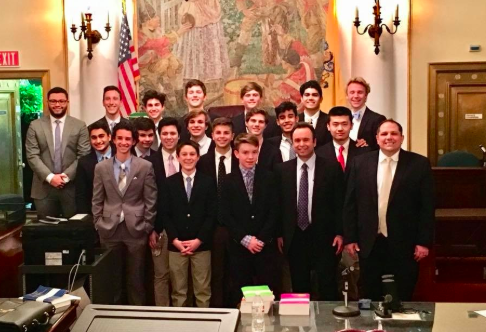 Joe Marchese is a junior at Oratory and is the captain of the Mock Trial team. He is an honor roll student and very much involved throughout the school whether it be through sports or clubs. Joe plays golf and soccer for OP while also being a leader in the Saint Philip Neri Club. Recently, I was given the opportunity to interview Joe regarding his thoughts on this year's team.
What made you interested in becoming a part of the team at first?
My hatred for winter track (which I had done Freshman year) and what then became my want to participate in something during the winter season. I had a couple of friends doing Mock Trial and it looked interesting so I wanted to try it out.
I know that the Mock Trial team has been very successful in the past. How's the team looking in comparison to teams of most recent years?
This year we did take a heavy loss but we've more than compensated for having a lot of people graduate. We're definitely on track to be just as successful as we have been in years past if not more so.
I am aware that there are plenty of first-year members on the team. Have any of the new guys really impressed?
The new guys this year really impressed everyone on the team. There are actually 2 first-year guys in witness roles right now (Will Dondero as Lew Olden and Logan Drone as Officer Steph Murray) and one first-year attorney on the Prosecution side (Alex Fudenna). They've all been progressing and performing really well throughout the season and they all did phenomenally during the first round of the county competition. 
How often to roles and cases change over the course of the season? Or are you guys constantly working on the same case?
We actually work on the same case throughout the season. It does sound like it would get boring but there's always more we can work on. We could use even more time than we generally have. The roles change as needed. This year, roles really didn't change as much as they have in past years. Only one attorney spot was changed and one or two witnesses.
Who are some of the toughest teams OP always comes up against in the court?
In counties, Kent Place is usually the most challenging opponent for us (but we still beat them pretty easily, of course). Mendham is also notoriously good, but there's always some teams further away that jump in and steal the show. Last year, a team from down the shore won states. There are a lot of good teams in New Jersey, but we're definitely right up there with just as must potential if not more. 
Are there any goals the team or yourself, as the captain, have set for yourselves?
At this time in the season, the focus is really on counties and making sure we advance to eventually win the county title. After that, we participate in regionals which I'm definitely looking forward to. We suffered a hard loss during our second trial of regionals last year, so personally I'd love to see us advance past the first day of regionals (since there are two trials in that one day).