Jimmy Carter Thwarts Death Again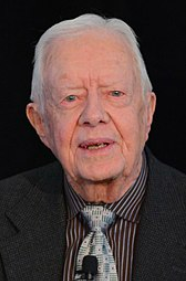 Jimmy Carter is not known for being an amicable person. Before, during, and after his 1977-1981 presidential term, he was the subject and source of some particularly acerbic criticism. His relationship with politicians and later presidents, even those of his own party, are comically sour: he criticized Reagan's Camp David Accords by calling them "18 months tardy," said of George W. Bush's presidency, "this administration has been the worst in history," blasted Bill Clinton for the Monica Lewinsky scandal and the pardoning of Marc Rich, said, "America has no functioning democracy at this moment," during Barack Obama's presidency, and has had no shortage of comments on the Trump administration. Now, it would seem he's made a new enemy: Death itself.
Carter, age 95, already the longest-living ex-president in US history, has defeated his own mortality several times. In August 2015, at the age of 91, announced he had been diagnosed with cancer – an instance of melanoma which had metastasized. By that December, the cancer had, remarkably, been entirely eliminated from his body. In 2019 alone, the ex-President has fallen three times, twice resulting in broken hips and once requiring stitches on his eyebrow, giving him several months with a black eye. On November 11, he underwent surgery to alleviate fluid pressure on his brain, which succeeded. 
It would seem that each day, Jimmy Carter wakes up and defeats the Grim Reaper in hand-to-hand combat. So far, he's thwarted terminal diseases, major injuries, and brain surgery, all while living to ripe old 95. Best of luck to Jimmy in providing continued proof of his own immortality.