MLB Awards Predictions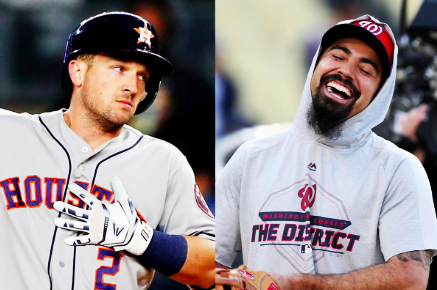 Cole Weintraub and Logan Drone
November 4, 2019
Hang on for a minute...we're trying to find some more stories you might like.
(stats from Baseball Reference) 
American League Most Valuable: Alex Bregman (3B – HOU)
The twenty five year old third basemen had an incredible season for the American League Champion, Houston Astros.  Bregman proved to be a potential MVP candidate after his very productive season, and many had high expectations from the ex-LSU Tiger.  He definitely lived up to the HYPE. This year, Bregman hit .296, cracked 41 homers, and knocked in 112 RBIs. He posted a slash of.423 OBP/.592 SLG/1.015 OPS.  He also played great defense over at the hot corner and was one of the main reasons the Astros had so much success.
American League Cy Young: Gerrit Cole (SP – HOU)
After coming over from Pittsburgh in the offseason, no one was really sure how Cole would do in Houston.  The Astros knew what they had and are notoriously known for changing pitcher's mechanics resulting in great success.  Well, the 'Stros were not wrong. In 212.1 innings, Cole had a 2.50 ERA and fanned 326 batters (WOW!) to a WHIP of 0.89.  Truly an amazing year from the right hander.
American League Rookie of the Year: Yordan Alvarez (LF/DH – HOU)
Yet another Houston Astro… 
After posting a .343 batting average with 23 home runs in only 56 games, the Astros knew it was time to call up the 6 foot 5, 22 year old from Cuba.  That decision really paid off. Yordan Alvarez showed to be one of the more lethal left handed hitters in the league. In 313 at-bats, "Air Yordan" hit .313 with 27 bombs and 78 RBIs.  Along with those phenomenal numbers, Alvarez showed amazing discipline at the plate, resulting in a .412 on base percentage. No rookie in the American League put up numbers even close to Alvarez's.  Yordan Alvarez has a very bright future ahead of him.
American League Manager of the Year: Rocco Baldelli (MIN)
The 2018 Minnesota Twins were a complete disappointment.  Their 2017 season showed a bit of promise, getting to the Wild Card game (lost to NYY), and some had expectations for 2018.  After firing Paul Molitor, the Twins needed someone to bring the team together. Rocco Baldelli, who played seven years in the majors (retiring in 2010), was an intriguing option considering the new increase of analytics.  The Twins ended up hiring him, and that move went well. With a bunch of offseason moves, breakout seasons, and well managed baseball games, Minnesota won 101 games. Rocco Baldelli turned this team back around and can now be looked at as one of the best young managers in the game.
National League Most Valuable Player: Anthony Rendon (3B – WAS)
For the past couple of years now, Anthony Rendon was looked at as one of the most underrated players in baseball.  In the offseason, Bryce Harper signed with the Philadelphia Phillies. Rendon was no longer in the shadow. No one had big expectations for the team in the nation's capital, but Rendon had other plans.  This year, in the final year of his contract, Anthony Rendon hit .319 with 34 homers and an MLB's best 126 runs batted in. He put up a .412 OBP and a 1.010 OPS. Rendon was the main reason the Nationals cracked the playoffs this year.  He flashed the leather at third base and was reliable for his team whenever they needed him. I'd say Anthony Rendon got his name out this year.
National League Cy Young: Jacob deGrom (SP – NYM)
The New York Mets had themselves a very disappointing year in 2019. After getting new GM Brodie VanWagenen, the Mets were looking to make some serious damage in the postseason after acquiring Robinson Cano and Edwin Diaz. This was not the case, as they finished with a record of 86-76, underachieving for the season. Through this disappointment were a few bright spots for the Metropolitans, one of which being stud pitcher Jacob deGrom. deGrom started off the year very slowly, having an ERA of 4.85 through 5 starts, giving up 5 runs or more in 2 of those 5 starts. After this rough start, deGrom completely turned things around, finishing the year with an ERA of 2.43 (2nd in MLB), a WHIP (walks, hits per inning pitched) of 0.97 (2nd in NL), 255 strikeouts (1st in NL), an opponent batting average of .207 (4th in NL), and a WAR of 7.3 (1st in NL pitchers). All of these stats prove that deGrom will repeat as Cy Young winner in 2019, becoming just the 11th pitcher in MLB history to repeat as Cy Young Winner.

National League Rookie of the Year: Pete Alonso (1B – NYM)
One of the only other bright spots for the New York Mets this past year was big rookie Pete Alonso. Wow did this guy perform this year. During Spring Training, the Mets were on the fence about putting Alonso on the major league roster, as if they decided to keep him in the minors for the first few games, they would get team control of him for an extra year. Met manager at the time Mickey Callaway chose to put Alonso on the major league roster at the start of the year, ultimately being one of the few good decisions during his tenure in 2019. As Alonso started at first base for the Mets on Opening Day, his impact was felt practically immediately. Alonso finished the year with a rookie record 53 home runs and 120 RBI's, leading the whole major leagues in home runs and coming in 4th in RBI's among all of the MLB as well. As you can see, Alonso was up there with the best of the best this year in stats, making this decision quite easy that Met first baseman Pete Alonso will be the Rookie of the Year. 
National League Manager of the Year: Mike Shildt (STL)
Just like the Minnesota Twins, the Cardinals also made a managerial change.  This move happened to occur in the 2018 season after the Cards fired Mike Matheny.  Shildt was pretty successful at the end of the '18 season which gave St. Louis some hope entering the new season.  That confidence was boosted even higher when they traded for six time All-Star, Paul Goldschmidt. Shildt was a great presence in the locker room.  The Cardinals aren't a very young team, but taking over any team without any major league experience is always difficult. The Birds passed the Brewers and the Cubs, ultimately winning a division title.  All in all, it was a very impressive year for Mike Shildt and the St. Louis Cardinals.