Union County Teen Arts Festival 2019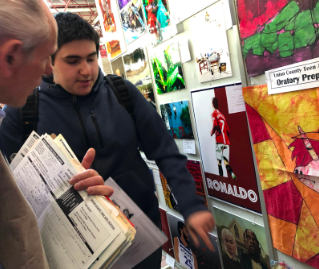 Hang on for a minute...we're trying to find some more stories you might like.
This year Oratory brought a lot to the table at the Union County Teen Arts Festival, with numerous pieces from Mrs. Preston's ceramics class and Mrs. Otterbein's digital photography and design classes. Thousands of students gathered at Union County College in Cranford, New Jersey to view an array of some of the greatest local teen artwork in the area. The annual program invites all teens to showcase their best pieces before professional judges in hopes of receiving a state recognized award, or just valuable critiques for self-improvement. The Festival also offered a number of interactive workshops tailored to various mediums of art, with classes ranging from tips on painting and watercolor to how to play the ukulele. On top of this all, there were a number of peer performances and exhibitions, ranging from orchestral concerts to dance contests. All in all, Oratory did a great job of representing the artistic ability of its students, displaying some of their best work, and ultimately making everybody really proud.