Recap of the Annual 3v3 Basketball Tournament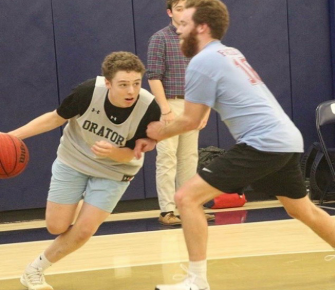 Every year, Student Council organizes a 3v3 basketball tournament for the students to take part in. The whole tournament is always broken up into three different age groups, where the middle schoolers compete against each other, the freshmen and sophomores play in a bracket, and finally, the juniors and seniors battle it out. Teams could be made up of the two grades in that division, not just one of the grades. This year, the event took place right before the beginning of spring break on a Friday afternoon.
"Papa John's Gold", consisting of Michael Tedesco, Luigi Pantano, Robbie Costello, and Patrick Conniff, won the middle school bracket. Not much was known about these middle schoolers prior to their victory, but they entered the tournament as nothing more than participants and are now leaving as winners. "H Town", the favorites to win the freshmen and sophomore division, unsurprisingly came out on top. Making up this team was one varsity starter, Chris Morrison, and three JV starters – Nick Yanuzzi, Jeremy Smith, and James Boylan. Each player on this team could hold their own weight, and they blew by the opposition with ease. Finally, "Who's Coming in Second?", came in first place for the upperclassmen tournament. This came as a surprise considering Liam McFarland was the only varsity basketball player on this team.  Although there was only one varsity basketball player, this team was made up of a very athletic group of guys. James Schneider and Sean Vowells both started games for varsity soccer while Sean is also looking for a successful season as captain of the golf team. Will Demilt had played freshman and JV basketball as an underclassman but is more known for being an excellent outfielder and pitcher for the varsity baseball team. This team came in looking like an underdog, but they were determined to win and never took their eyes off the prize.  
At the end of the day, the whole school was called down to the Degaeta Gym to watch the senior vs. faculty game. The seniors had only scored 10 points in the first half and stepped up their game in the second half. However, the faculty team, led by Mr. Daugherty, still won by a score of 40-35 and their winning streak against the seniors continues. That's 12 years in a row now that the faculty team have come out as winners.