OP Bowling on a Roll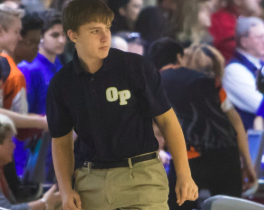 Jersey Lanes in Linden, New Jersey has been the stomping ground for some of the most talented and skillful athletes at Oratory: the members of the bowling team. The winter sports teams seem to be stronger than ever, with the basketball, ice hockey, and fencing teams boasting solid records. While the bowling team may not have been receiving as much recognition as they deserve, they have been thriving on the lanes thus far. Under the coaching of Mrs. Geissler, the team has captured wins against Plainfield, Hillside, St Mary (Elizabeth), and Roselle Catholic. I had the opportunity to interview two key players on the team, junior Jack Coyne and senior Ryan Hochstaedter, asking them questions about the team's performance so far in the 2018-19 season.
How is the team looking so far?
Ryan: The team's performing really well. When all of us are there and on top of our game, I feel we can beat anyone in our division.
Jack: Despite the loss of Isaac Russell, our star bowler for the last couple of years, we are shaping up to be a pretty good team. Everyone has been bowling better than they ever have, and as a team, we all get along together. We joke when things go bad and refocus, and we take pride when we are victorious.
Who have been the key contributors on the team – any standouts?
Ryan: While he may not have the highest scores, Jack Coyne has been the most consistent this year. He always seems to touch upon one aspect of his game to make himself a better player, which is really admirable. Steven Chambers has really been improving as well, and could easily become the best on the team in the near future.
Jack: Nick Short is our best bowler, but however since he will be done for the rest of the season, Ryan Hochstaedter and Steven Chambers will need to step it up in order to preserve a good season.
Do you have a memorable moment or game so far this season?
Ryan: This might be a little biased, but my favorite moment so far this season was when I got my first 600 series. I had to throw three straight strikes to do so, and the moment I hit the third strike, the team erupted. It was just an awesome team celebration and I'm hoping some of the other guys can hit their own personal goals this season.
Jack: Personally my best series happened during practice recently where I shot my highest series of a 530. But the most memorable moment of the season so far was how much of a fight we gave Roselle, the second best team in our conference. We lost every game by just a slim margin.
What goals would you and the team like to achieve by the end of the season?
Ryan: As a team, the ultimate goal is to win the division and get a banner in the gym. This might be a little harder to accomplish without Nick Short, but I'm still hopeful we can get it done. Personally, there is a singles tournament near the end of the month that I'm hoping to qualify for.
Jack: Ryan Hochstaedter and Steven Chambers would like to start averaging around 190-200. I would like to start averaging 170-180. Ryan Del Rio would like to average 150-160 and as a team, we, of course, would love to win our conference, but without Nick Short, we need to make sure we stay in 3rd place.
What is your favorite part about bowling?
Ryan: My favorite part of bowling is that you can always bounce back regardless of the situation of the game. It only takes a few frames to get back into the game. I'm also a big fan of the atmosphere. There is little to no trash talk spoken, and everyone is very supportive and wants you to do well.
Jack: My favorite part about bowling is of course that the game is fun, but when you finally make the right moves on the lane and figure out where to throw the ball on both lanes, and you start pounding down two or three strikes in a row. It feels oddly… satisfying…
Any final words or shoutouts?
Ryan: I can't wait to see what the rest of the season has in store for us. Shoutout to Mrs. Geissler, Josh Costello, waffle fries and staying hydrated.
Jack and Ryan are undoubtedly confident in their own skills, the abilities of their teammates, and the future success for Oratory's bowling squad. Although they have to face a difficult hurdle, with the loss of a star player, the team will continue to remain positive and enjoy the overall atmosphere and experience of playing for the bowling team. The individuals on the team are not only thriving and improving, but having fun through the process because of their teamwork and camaraderie. With around seven matches remaining in the season, look out for some big performances from some of these guys and a potential conference championship!