Featured Club: Music Ministry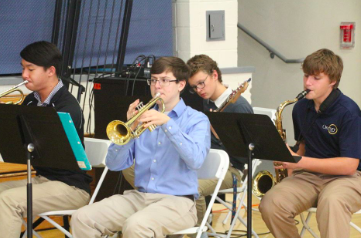 The monthly masses here at Oratory are an integral part of the Catholic school, and several groups of students are responsible for contributing: the altar servers, Campus Ministry, and the Music Ministry are just a few examples. The music that students and faculty hear every month at mass are all possible because of the leadership of Mr. Van Hoven and Mrs. Clark and the musicianship of the students in the Music Ministry.
With yet another mass on Friday, December 7, the group of instrumentalists and singers prepare once again for the several hymns that are to be played. This year, the members include singers Justin Oei (also the pianist), Chris Ocker, Chris McCallister, Cole Noss, Graham Hamilton, John Spitznagel, and Alexander Jansiewicz, trumpeters Steven Fudenna, John Celona, and James Kim, guitarist Jake Nowacki, saxophonist Jack Coyne, and cellist Alexander Fudenna. The group of talented musicians work together to perform well, represent Oratory's musicianship, and serve the school with their gifts.
The process for preparing for such masses is very simple. Mr. Van Hoven and Mrs. Clark prepare copies of music, whether they create sheet music themselves or print copies from the hymn book. Everyone then meets during one Common Work Period to rehearse the songs, and after twenty or so minutes, everyone is typically familiar and confident with the pieces. This period also gives everyone to catch any mistakes that may have been in the music scores. On the day of the mass, the members come in around thirty minutes before school to warm up, make any last minute adjustments, and rehearse one final time. Finally, when the time comes around, they perform and the Bain Gym is filled with delightful hymns and songs.
To become a member is very simple: if you have any interest at all in playing a musical instrument or singing at mass, the group would be open to accepting any interested students (Mr. Van Hoven or Mrs. Clark should be contacted). Musicians will need to have a strong ability to sight-read and have confidence in their vocal or instrumental skills. They will also need to be flexible and be able to make momentary adjustments, if necessary. With the senior-heavy group of guys, the underclassmen at the school are definitely encouraged to join. Overall, being part of the Music Ministry is a rewarding and fun experience that is a great way to become involved in the school community!