Varsity Soccer Season Recap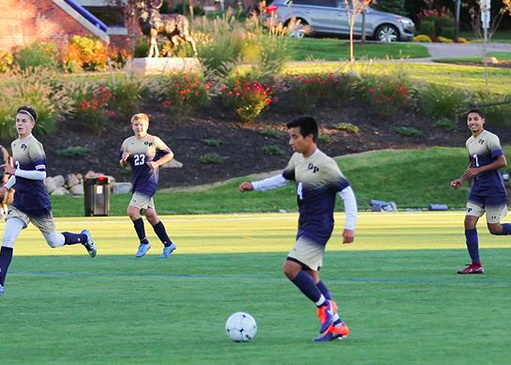 November 1st marked the end of another successful season for OP soccer. Despite the slow start in the beginning, the team rallied together and earned an overall record of 8-10-1.
Some of the regular season highlights included wins over Morristown-Beard, rival New Providence, Governor Livingston, Dayton, Johnson, and Brearley. Throughout the entirety of the season, Nick Jardim, Ryan Kenny, Nick Carnevale, Andrew Stauffer, and Marcelo Freire led the offense with a combined 27 goals. Additionally, keepers Jack Coyne and Nick Sannito displayed great ability in net with 67 total saves on the season, all while captains Steven Fudenna and Jake Wright led the team very well from start to end.
Despite not advancing in the county tournament or finishing at the top of the conference, the team played extraordinarily well in the Non-Public A tournament, arguably one of the most competitive groups in the state and possibly the country. After earning the ninth seed, Oratory played eighth-seeded Union Catholic on October 29 in Scotch Plains. They won with a score of 2-1, with goals from Ryan Kenny, assisted by Marcelo Freire, and Nick Jardim (on a free kick). This hard-earned win resulted in a game against the most competitive team that a Jersey team could possibly play: Delbarton (the #1 ranked team in the state).
As most students know, Delbarton has a reputation for having extraordinarily talented teams, not just in soccer, but basically every sport. They have won countless championships and have had gifted players committed to some of the best Division 1 programs in the nation, so when heading into the game, students were not entirely hopeful. Word on the street was that Delbarton was going to absolutely obliterate Oratory. However, this was not the case on November 1st when OP's soccer team put up a fight against the Green Wave. Through the first half, the score was (surprisingly) 0-0, largely thanks to Junior Jack Coyne shutting out the Wave in net. By focusing on a defensive strategy, the team was able to maintain a tight game that many did not even expect to be close. However, in the second half, two Delbarton goals found the back of the net, but the Rams were not done. Sophomore Nick Carnevale scored with five minutes left. However, OP did not come back, and the 2-1 loss would mark the end of the season.
Despite not coming away with a win, the soccer team played their hearts out and competed unbelievably well to finish the season on a high note. The players and coaches can walk away with their heads up high, as the team has much to be proud of. Next year can also mark another successful, fulfilling year: many of the team's key contributors will be returning and the possibilities for triumph are endless. Congrats to everyone who was a part of the soccer program this past season and thank you, seniors….Go Rams!