An Interview with Mr. Blauner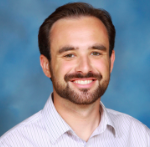 Hang on for a minute...we're trying to find some more stories you might like.
Mr. Blauner was recently hired to fill the place of a P.E teacher. During this interview, we are able to gain some insight into Mr. Blauner's career before joining the Oratory Brotherhood.
What do you think of Oratory so far?
Oratory has been fantastic through the first part of the school year. I cannot ask for a better place to teach. The environment of the school community is second to none. I'm extremely privileged to be able to teach in a school such as this one.
What college did you attend?
I attended Montclair State University. I have a CEAS (Certificate of Eligibility with Advanced Standing) in health & physical education. I am certified in driver's education and first aid/CPR as well.
List five adjectives that describe yourself.
Motivated, Loyal, Reliable, Realistic, and Direct
When and why did you decide to become a teacher?
I knew I wanted to be a teacher my whole life. I believe a person either has it or they don't when it comes to teaching. In no other profession do you have the ability to directly impact future generations of young professionals like teachers do. I look at it as a privilege to teach such a talented group of guys at Oratory.
What do you like most about teaching?
The clear-cut best part of teaching for me is simply the ability to make a positive difference in many students' lives on a daily basis.
Where did you coach before Oratory?
I coached at both Randolph High School and Pequannock Township High School over the last number of years. I currently coach boys basketball at Hanover Park High School and also will be coaching at Oratory in the springtime.
What sports (if any) did you play in high school and/or college?
I played basketball, football, and baseball in high school.
What expectations do you have for your players?
I expect all of my players to represent their school and themselves in the highest regard at all times, whether they are in or out of school. My players lead by example each and every day. Winning on the field is great but winning in every other category is just as important to me.
Do you have a coaching philosophy, if so what is it?
My coaching philosophy is broken down into three parts: (Part 1) I want to provide a positive environment and opportunity for student-athletes to reach their full potential as individuals through sport. (Part 2) I want to lead my team through positive language and thinking to develop maximum confidence throughout the entire team. We need to have the confidence and mental toughness to deal with adversity head-on when the situation presents itself. (Part 3) I want to be a role model as well as someone who my athletes can come to for anything they may need.
What expectations do you have for this upcoming season?
I am not big into predicting how my teams might do in their respective upcoming seasons. Every season is a grind, and there are way too many moving parts to predict how a team might do. Although I am a very realistic person, I go into every game expecting to win. I understand going undefeated in anything is unheard of and an amazing accomplishment, but with that being said, I've never expected to lose a game…ever. We may not always be the most talented team on the court or field every game, but we will be the most prepared team for sure. If my team finds itself in a "David & Goliath" situation, we take the approach of "why not us?"