MLB Postseason Preview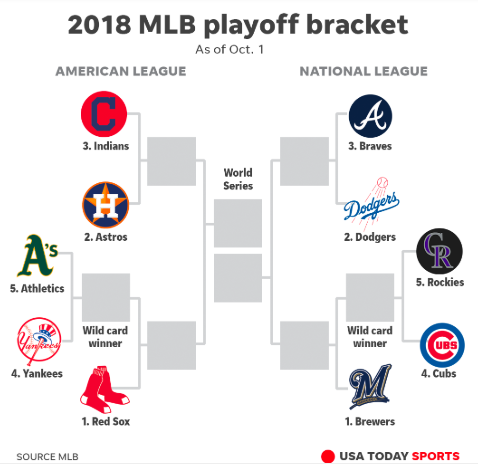 Hang on for a minute...we're trying to find some more stories you might like.
The MLB regular season schedule is officially over and two divisions finished with identical leaders. In the AL, everything finished smoothly, with the Red Sox, Yankees, Astros, A's and Indians all make the postseason in the AL. In the NL, the West and the Central finished with tiebreakers, with the Brewers and the Dodgers winning the divisions. Although the Cubs and Rockies lost the tiebreaker, they still make the playoffs, forced to play a one-game wild card. The NL playoff teams are the Braves, Cubs, Dodgers, Rockies, and Brewers. While each team has done their job to get to the postseason, not every team stacks up equally. Some teams are set up perfectly for the postseason, while some teams have an uphill battle to the World Series. Here's how each team stacks up for the postseason:
Red Sox (108-54): The Red Sox finished the season with the best record in baseball, with a record of 108-54. They are set to face the winner of the AL wild-card game, featuring the Yankees and the A's. Their main strength is their offense, which has the highest run total in the majors. Featuring MVP candidates J. D. Martinez and Mookie Betts, along with breakout star Andrew Benintendi, their offense is the most feared in baseball. Their defense in the outfield is a major advantage, with Benintendi in left field, Betts in right field, and Jackie Bradley Jr in the center. The Red Sox do a quite a few weaknesses though. Their main problem is their rotation. Chris Sale has been on the DL twice since July 28th and has only 17 innings pitched since then. He still hasn't pitched 5 full innings since coming back. If he's a full strength, he is dominant, but he hasn't gotten there yet. Behind Sale, they have Rick Porcello, David Price, and Nathan Eovaldi. Each is decent, but none are real aces. In a 5 or 7 game series, having an ace is very important; getting Sale back would be perfect for them.
Astros (103-59): The defending World Champs finish with the second best record in MLB. They are set to face the Indians in ALDS. They have actually gotten better this year, acquiring Gerrit Cole and getting a full year out of Justin Verlander. The Astros are likely the most complete team in the postseason this year; they really don't have any weaknesses. Their rotation, consisting of Verlander, Cole, Charlie Morton, and Dallas Keuchel, is the best in the American League. Their bullpen is also good, containing young fireballer Josh James, mid-season acquisition Roberto Osuna, Hector Rondon, and Brad Peacock. Their offense is highly touted, with Carlos Correa, Jose Altuve, George Springer, and Alex Bregman. It has struggled at times during the year, but it is still a top offense. Jose Altuve, the 2017 AL MVP, has had a great year, although he is set to lose his first AL hit title since 2013. Carlos Correa has struggled mightily since coming off the DL, but the Astros are confident that he'll be a major factor in the postseason. George Springer, the winner of the 2017 World Series MVP, has struggled a bit this year but is obviously a big contributor. Underrated Alex Bregman has gone under the radar, and consistently done his thing throughout the year.
Indians (91-71): The earliest team to clinch this year, the Indians have had an easy road to the postseason. They are set to face the Astros in the ALDS. The Indians have a solid team, with a pretty good offense and a potentially great pitching staff. Led by Francisco Lindor and Jose Ramirez, their offense could be dangerous in a 5 game series. Their starting rotation is solid, led by Corey Kluber, Carlos Carrasco, and Trevor Bauer. In a 5 game or 7 game series, their rotation could be very dangerous. Kluber, Carrasco, and Bauer can dominate each game in the series and each could go 9 innings if necessary. Though it's been good in the past years, their bullpen has been very iffy this year, due to Cody Allen's struggles and injuries to Andrew Miller. They have talent in the bullpen, which could help them. But it needs to show for them to go deep in the postseason.
Yankees (100-62): Ironically, considering they won 100 games, 2018 might have disappointed some Yankee fans. They came into the year with high hopes for the division, yet finished the season 8 games behind the Red Sox. They still make the playoffs, facing the A's(at Yankee Stadium) in a one-game wild card. The Yankees rely on offense and bullpen, with their starting pitching being a major weak spot. Their offense is very good, setting the all-time single season home run record. While it has been very good over the course of the season, health could affect their playoff hopes. Aaron Judge and Didi Gregorius recently came off the DL, so if they're at full health, their offense could carry their team. Their starting pitching is a bit of a mess, but they have some guys who could do well. J.A Happ and C.C. Sabathia have been reliable for the Yankees, while Luis Severino has been erratic, yet shown great upside. If their starters can go 5 scoreless innings in the postseason, then they can hand it over to their dominant bullpen to finish off the game. With Aroldis Chapman, Chad Green, Zach Britton, and many others, their bullpen is among the best in baseball.
A's (97-65): One of the greatest stories in MLB this year, the A's went on a historic run to win 97 games. They have fully embraced the modern day strategy, with a great bullpen and a home run hitting offense. The amazing thing about them is that they have done it with the lowest payroll in baseball, finding guys like Edwin Jackson and Blake Treinen. They have revived these guys careers and used them towards their improbable playoff run. Like the Yankees, the A's have a starting pitching problem. Sean Manaea, their ace, was injured and is unavailable for the postseason. Edwin Jackson has been a good acquisition for them, but he isn't really an ace. This could come back to bite them, although their fantastic bullpen could pick up some of the innings that their starters are lacking. Their offense is good, filled with tons of home run hitters. Khris Davis leads MLB with 48 and Matt Chapman and Matt Olson have been great this year too.
NL:
Brewers (96-67): Forced to play a one-game tiebreaker for the NL Central, the Brewers beat the Cubs on Monday. They are facing the winner of the wild-card game between the Rockies and the Cubs. Like the A's and Yankees, they have a great bullpen but major starting pitching problems. Josh Hadar is setting all kind of records for strikeouts this year and has been a major bright spot for the Brewers' bullpen. He has shown that he can go multiple innings at a time, which has proven in the past to be very valuable in the postseason(Andrew Miller, 2016). If their starters could get them to the bullpen with the lead, the game is virtually over. But getting the lead has also been a problem for them this year. Probably the weakest of the playoff teams, the Brewers' offense can be miserable at times. Luckily for them, Christian Yelich has been doing some heavy lifting recently, coming very close to winning the triple crown. Mike Moustakas and Jonathan Schoop have been decent since coming over during the year, but not enough to make their offense great.
Cubs (95-68): Unfortunately for them, despite having the second best record in the NL, are forced to play a do-or-die game against the Rockies. The 2016 World Series Champs have a potentially dangerous lineup, featuring Kris Bryant, Anthony Rizzo, Javy Baez, and Willson Contreras. Bryant has been hurt quite a bit this year, so health could be a major impact on the team. Even with the terrible Yu Darvish deal, their starting pitching is pretty good, with Jon Lester, Kyle Hendricks, Cole Hamels, and Jose Quintana. In this age of bullpenning, a good starting staff isn't necessary but it is very nice to have. Since none of them are overpowering aces, they won't likely go more than 6 innings. This leads to their bullpen, which is an absolute mess. They have to find some consistency or there were be a bunch of games like the tiebreaker games.
Dodgers (92-71): The Dodgers beat the Rockies in a tiebreaker game and are set to face the Braves in the NLDS. They could be the best team in the NL, with a great offense and a pretty good starting rotation. While it struggled later in the season, their offense is widely considered one of the best in the league. Cody Bellinger, Justin Turner, Manny Machado, and Max Muncy are all major contributors on offense and can easily change the game with one swing. Their starting rotation, consisting of Clayton Kershaw, Walker Buehler, Hyun-Jin Ryu, and Rich Hill, is pretty good, to say the least. Although Kershaw has struggled in past playoff games, it's hard to argue that he isn't one of the greatest pitchers of his generation. At his best, he a top 5 pitcher in baseball. His postseason struggles don't outweigh his regular season dominance. Their bullpen is not terrible but definitely not A's or Brewers level. Kenley Jansen is great but it's a bit of a question mark before him. Luckily for them, though, their starting pitching can go a bunch of innings to make up for their bullpen mediocrity.
Rockies (91-72): The Rockies lost to the Dodgers on Monday, meaning that they face the Cubs in the 1 game wild card. Surprisingly for them, their starting pitching has actually carried them throughout the year, with Kyle Freeland and German Marquez leading the staff. Freeland is deserving of Cy Young consideration, although he won't finish top 3 because of an amazing class this year. Their offense has struggled at times this year, especially on the road. Considering they're a second wild card team, they are going to have some trouble advancing through the postseason on the road. Their bullpen was an expensive mess for a while, but it's finally looked better of late. Their strength falls in their rotation, and in-home offense, so if they can split on the road, then they can look to feast at home.
Braves (90-72): The youthful Braves were the only team in the NL to not have to play a tiebreaker game. They are set to face the Dodgers in the NLDS. The Braves were not supposed to be good this year, and yet here they are. They have largely ridden good starting pitching and great performances by rookies. Breakouts Mike Foltynewicz, Ozzie Albies, and Ronald Acuna have all be huge contributors to the Braves this year, along with perennial all-star Freddie Freeman. Foltynewicz has been an ace this year and could be a great factor in the postseason. Ronald Acuna, who is widely considered the favorite for the NL Rookie of the Year, has been absolutely great since being moved to the leadoff spot in late July. Combined with Albies and Freeman, their offense is considered one of the best in the NL. Their bullpen is in a unique position, with a bunch young starters who are being used out of the bullpen. Guys like Bryce Wilson and Touki Toussaint could make a postseason start but are more likely going to be used out of the bullpen. This could be a decisive factor in their postseason hopes. If they live up to the hype, then their bullpen could be a major force in the postseason.