Interviews with Nick Sannito and Conor Maenpaa: Two OP Soccer Stars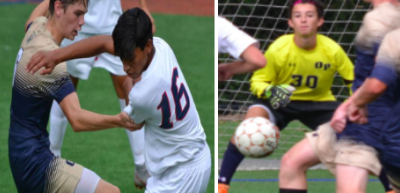 Hang on for a minute...we're trying to find some more stories you might like.
With five home games remaining in the season, Oratory Soccer is heating up. Thanks to excellent saves by Nick Sannito and multiple assists off the foot of Conor Maenpaa. It's no wonder the team has amassed 5 wins (with more to come), with these guys on the team. With the playoffs fast approaching, I sat down with the two footballers to get more information on their game.
Questions for Nick Sannito:
Chris: Although the season is still young, what has been your favorite moment for the OP Soccer Team so far this year?
Nick: So far I think the senior day game's been my favorite moment. We played really well as a team, we got a lot of support from the parents, and the fan base was phenomenal. I'm hoping the home games for the rest of the season keep that same feel.
Chris: Are there any nerves before you get in between the sticks for a big game?
Nick: Big time. I'm pretty new to the position and kind of learning on the job this year, so I'm still working on getting comfortable in my own skin out there.
Chris:  When and why did you become a goalie?
Nick: I actually started playing goalie for the first time Sophomore year. I played soccer when I was little, then stopped in like 6th grade, and then I picked it up again going into Freshman year at OP.  I played the field that first year but I didn't think I'd make the team sophomore year unless I tried out for goalie.
Chris: What's your prediction for 2018 OP soccer?
Nick: I think we should be pretty good this year. We actually have a pretty young squad and we're still figuring out what our identity is going to be as a team, but I think we have a lot of potential and are going to be a scary team to play down the stretch. We played really well against New Prov, and I think games like that are going to be norm going forward.
Chris: Any key secrets to making a save?
Nick: The secret of course is a little bit of love.
————————————————
Conor Maenpaa
Chris:  How long have you been playing the beautiful game of soccer for?
Conor: I've been playing the beautiful game for over 7 years now. I've played on various clubs teams, toured in different countries and experienced some great games. I can safely say that soccer is my favorite sport and it is something I love to play.
Chris:  Being a junior, what goals do you have for the future of this team?
Conor: The future of this team is rooted in our junior class with studs up and down the list. Going forward, I think that as a team we are looking to continue making it further and further into our county tournament and improve our record in our conference.
Chris: What's your favorite OP Soccer rivalry?
Conor: My personal favorite rivalry is our rivalry with New Providence. New Prov fans love to stick it to us when we play there, and the Rowdies never fail when they come to "the Ram", so it's a great atmosphere to play in altogether.
Chris: What soccer pro do you find yourself most similar to?
Conor: I find myself to play similarly to Mateo Kovacic, a Chelsea player, who has good vision and awareness.
Chris:  What teammate do you relate to the most on the field? How does that chemistry help you win games?
Conor: I find myself linking up well with Nick Jardim often times as we both have played the game for a long time and we have developed chemistry from crosses to headers, although it still needs to be implemented in game.