Interning with Swimming World Magazine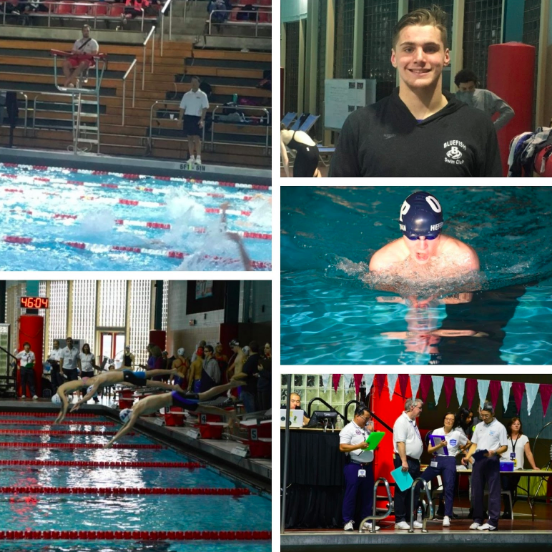 Hang on for a minute...we're trying to find some more stories you might like.
From January 12th to the 14th, Berkeley Aquatic Club hosted the BAC Winter Invitational swim meet. This meet was split over two locations, with the Friday events swam at Berkeley Aquatic in New Providence and all Saturday and Sunday swims completed at Rutgers University in Piscataway. This meet was covered in its entirety by national publication Swimming World Magazine with its online livestream of the events and various articles on their website. Through Berkeley, the magazine ran an essay contest to find qualified interns to help at the meet. Ten students were chosen and these individuals helped film, photograph, and write articles for and about the BAC Winter Invite. Two of these interns came from Oratory Prep and both severed as Student Journalists and Announcers.
Sophomore Luke Bernstein was at the meet for both weekend days serving primarily as an announcer in the morning and then supplying written material during the afternoon. The Saturday morning session was the preliminary finals for the 15 & over swimmers which I (Luke) announced for in its entirety. Next came the 14& under prelims during which I started by announcing and then finished with writing my first article of the weekend.
This article focused on current Oratory Prep star swimmer Patrick Heffernan who was at the meet swimming for his club team, Berkeley Aquatic. During the morning prelims, Heffernan was slated to swim the 200 IM and 400 Freestyle both of which he swam excellently. However, prior to his Individual Medley, Patrick discovered a hole in his swimsuit right along the inner thigh. This became the basis of my article which talks about how Hefferan dealt with this unfortunate situation and how he conquered the difficult swims that would come after this unfortunate rip.
The final Saturday session was the evening finals for the 15& over swimmers. This session became inspiration for my next article, which featured another star swimmer, Will Barao. He hails from Bluefish Swim Club in Massachusetts and destroyed all of his competition in his speciality, distance freestyle.  I had the opportunity to interview Barao after his victory in the 400 Freestyle Saturday night. Besides winning the 400, he won the 800 Friday night and the 1500 earlier on that Saturday. My interview with Barao centered on how he maintains his fast pace during the long distance swims with virtually no one around him.  This was a great opportunity to talk to a fantastic swimmers about his skills and his plans for the future, both on camera and then writing the article afterwards.
I was only able to intern at the BAC Winter Invite on Sunday for a portion of the Senior prelims and all of the 14& under finals. I served as the announcer for the morning senior prelims during the morning session and then used most of the younger finals to write my last article. This piece focused on the almost unnoticeable, yet crucial for the safety and success of any swim meet, lifeguards. I had the opportunity to interview one Rutgers University guard named Matt Grecko. He was willing to share his personal experiences as a guard and what it is a like to work long hours at a big meet.  This article gave me a great opportunity to learn about and spread information regarding a important, yet often overlooked portion of the swim meet process. Interning with Swimming World Magazine at the BAC Winter Invite was an incredible experience and one that I wish to replicate if this opportunity becomes available again.
Another sophomore, Kyle Roethlin, worked at the BAC Invite on Saturday as an announcer and journalist in the afternoon and solely as a journalist in the evening. I (Kyle) wrote my first article during the 14 and under prelims on Saturday. It discussed a variety of topics regarding swim meet officials, and what it is like to officiate at the BAC Winter Invite. One of the volunteers I interviewed was David Lam. He discussed what it is like to be an official and explained some of the reasons these crucial men and women may want to work at the BAC Winter Invite. He said that many have children in the competition, and officiating is one of the ways to be involved in their swimming careers. Lam went on to explain some of the harder calls that officials have to make, like the two-hand touch rule on butterfly and backstroke turns/finishes. It was very interesting to learn about the goals and challenges of a swimming official.
Later that day, I wrote another article detailing what swimmers do in between racing sessions to prepare themselves. To gather information for this article, I talked to Patrick Heffernan, a swimmer in the evening finals session on Saturday. He said that after the morning session, he takes a nap and, afterwards, eats and then showers like it is a brand new day. Heffernan says that helps him stay alert, since the long periods of sleep can make the swimmer groggy. He went on to explain that this routine is very important because traveling to Rutgers twice in one day is a lot of traveling, over an hour and a half in total. After completing this article, my day was finished.
Having the opportunity to work with the dedicated staff of both Swimming World and Berkeley Aquatic Club during the two days that we were at the meet was a great opportunity to learn even more about the sport of swimming and gain valuable exposure to sports journalism. Many thanks to Swimming World Magazine employee David Reider, Berkley videographer Chris Rattray, and intern coordinator Sandi Chung for making the weekend a great learning experience and moving as smooth as possible.  
Follow the links below to read the full stories discussed in the above article.
Luke's Articles:
Will Barao Takes on Grueling Distance Schedule at BAC Winter Invite
The Plight of the Swimmer Who Ripped His Tech Suit
Checking in With the Lifeguards at the BAC Winter Invitational
Kyles Articles:
What's it Like Officiating at the BAC Winter Invitational?
The Time in Between Racing at BAC Winter Invite
Photo Courtesies to Luke Bernstein, Jessica Pochek, Patrick Heffernan, and Swimming World Magazine