Christmas at Oratory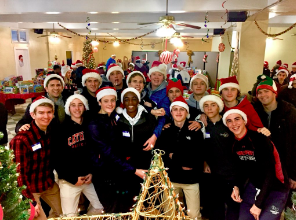 Hang on for a minute...we're trying to find some more stories you might like.
Christmas just came to an end, and, at Oratory, we celebrated this amazing holiday with something we call "Christmas at Oratory". It always is the last day before the winter break and gives students a positive reminder of why we celebrate the holiday in such a way. This has been a long withstanding tradition that requires much effort behind the scenes that most do not realize. All the help provided by the students and faculty created a great experience for all who attended and a huge success in the eyes of those who organized it. There were many different events that drew interest from the students throughout the assembly. For example, student council representatives presented members of their grade gifts. Some presents were more humorous like a matchbox car in a the biggest bag and a portrait of one sibling pair who had the same last name as another, but other gifts were more practical like spikeball. During all this, each student could find numerous activities such as crossword puzzles and word searches on their table along with some candy. The band conducted by Mr. Van Hoven added their musical talents when playing along to some well known Christmas carols and starring in other lesser known pieces as well. All students and faculty were served free lunch which included chicken parmesan, stuffed shells, and salads. Many even tried to return to the serving area for seconds well before they were called to do so. Lastly, the prayer service brought the entertaining day to a close as it reminded us of the reason for the joyful party that pleased so many. Beyond the engaging side of the party like the free food or funny gifts, it really helped all remember the purpose of Christmas.