Model UN At Horace Mann Conference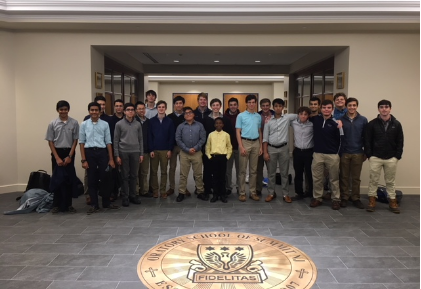 Hang on for a minute...we're trying to find some more stories you might like.
The Model UN club attended the annual Horace Mann Conference last Saturday.  After weeks of preparation, the time had finally come to represent their designated countries of Peru, Bangladesh, and Bolivia. In addition to representing various nations, Model UN conferences also include various crisis committees on pertinent and historical topics; the ones OP represented varied from Free Speech at Jefferson University (a fictional institution in Arkansas) to a simulation of the American Revolution.  This, being our first of the year and biggest conference ever, was a new experience for everyone.  Overall, it was a really solid event, and. as a club, we mutually agreed to attend it again.
 The delegates who attended included students from every grade, and they had spent hours researching their topics prior to the event, culminating into an early-morning bus ride on Saturday accentuated with bagels and donuts. At the conference, OP's budding team was also lucky to work with veteran teams in an environment that was not overly competitive but still afforded every delegate the opportunity to pursue an action that his/her country would. Tommy Gress, the club founder, summed it up best: "I learned to debate, strategize, and speak in public with my peers. I would love more people to join and check out our club because this was a truly enjoyable experience."