Gawad Kalinga: Rebuilding a Nation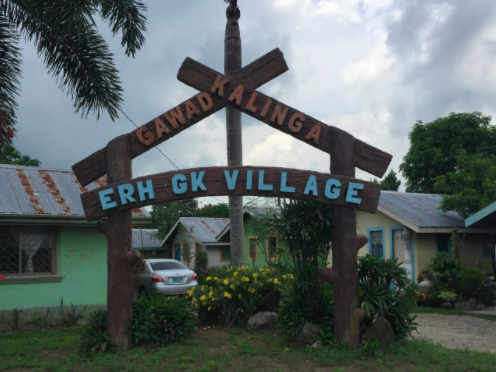 Hang on for a minute...we're trying to find some more stories you might like.
Over the summer, I spent about four weeks in the Philippines, the third-world country my parents call home. The first week I spent with my cousins, away from my parents, smooth sailing on the island of Panay. After my week of relaxation, I took a boat ride to the island of Negros, where I met up with my mother and her family, most of whom I had never met before.
For my first week in Bacolod, I spent my mornings and early afternoons helping out in the ERH-GK village, a self-sustainable village built for a community of poor families by Gawad Kalinga (G.K.) and its volunteers. There I spent most of my time helping out both the French interns stationed there as well as those in charge of the village. In my spare time, I befriended many of the kids through games and sports.
My time in the ERH-GK village was an eye-opening experience. Some of my work included helping the residents paint the village's preschool, build a small convenience store in the center of town, and plant tomatoes in the community garden. I was also able to spend some time with a major figure and philanthropist in Bacolod City named Robert "Bobby" Magalona, who oversees all G.K. operations on the island of Negros.
After my stay in Bacolod City, I made my way to Manila, the capital of the Philippines. There I met my grandfather, Tony Meloto, who is locally known as "Tito Tony", and stayed with him in the Enchanted Farm, Gawad Kalinga's primary platform where they teach social entrepreneurship to both Filipinos and international students. The students spend their time planting their own crops, raising their own animals, and cultivating their own unique business ideas and projects as they are taught the ways social entrepreneurship.
Tony Meloto founded of the Gawad Kalinga Community Development Foundation in order to end poverty for millions of families in the Philippines. He spoke to me of his dreams for his country: that one day they would thrive and prosper with the other great nations of the world, for the Philippines' history has been stained by colonization and subsequent lack of development and poverty.
Since it was founded in 2003, G.K. has built over 2000 sustainable communities in the Philippines. These communities include small gardens, farms, and businesses that allow the communities to sustain itself financially and resourcefully, an idea that has been adopted by similar foundations in Cambodia, Indonesia, and Papua New Guinea. G.K. also conducts peace-building work in crime-struck areas, as well as reconstruction work in areas affected by natural disasters.
Gawad Kalinga was the Ramon Magsaysay Awardee in 2006, and the Skoll Awardee for social entrepreneurship in 2012. With the help of individual donors, grants, and corporations the organization has and continues to build communities for the impoverished all across the Philippines, and recently other countries as well. Gawad Kalinga means "to give hope", which is something the foundation tries to spread every day to the impoverished that may have lost it.