Meet Trump's New Labor Pick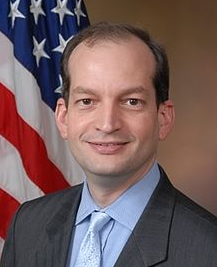 Hang on for a minute...we're trying to find some more stories you might like.
Upon the withdrawal of Andrew Puzder, Trump's original pick of for Labor Secretary, President Trump was forced to select a new one. Puzder was forced to withdraw when Senate Majority Leader Mitch McConnell informed the President that Puzder would not have enough votes to pass in the senate despite a slim 52-48 Republican majority. Puzder's nomination was one of the most controversial. The CEO of CKE Restaurants had many scandals that were brought up and handled poorly by Puzder. Politicians have claimed that he mistreated women, opposed raising the minimum wage, and has committed wage theft. Between the controversy that Puzder created and the lack of Hispanic representation in the Trump cabinet, President Trump opted for a safe choice: Alexander Acosta, the first Hispanic American to potentially serve the Trump Cabinet.
Acosta is from Miami, Florida and is Cuban-American. His parents fled here from Cuba. Under George W. Bush, Acosta served as Assistant Attorney General for Civil Rights and on the National Labor Relations Board. After his service in Washington, he served as the United States Attorney for Florida International University. He currently is the Dean of Florida International University College.
Image Credit: U.S. Department of Justice