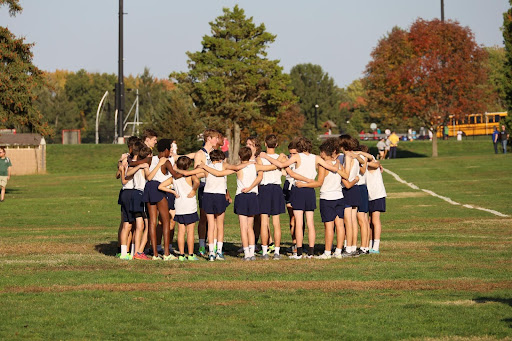 As the fall season comes to a close, I thought I might talk about my personal experience with Oratory Prep Cross Country. At my first-ever practice, I noticed a different atmosphere. Everybody was talking to each other and I felt a sense of brotherhood right away. Before this season, I had never run cross country before and it's unlike any other sports I've played before. I chose to do cross country as my dad is a huge runner. He goes on runs almost daily and he recommended that I try. Although at first, I was against it, I realized It was a good way to build up endurance and work on my asthma.
People come up with the misconception that cross-country, also known as XC, is a one-person sport, but that's furthest from the truth. Without support from my teammates cheering me on I most likely wouldn't have been able to hit a PR in my final race. Your teammates running with you and cheering you on both help so much. Your teammates who aren't running support you by cheering all over the course.  Your teammates running with you can motivate you to catch up to them. Due to this, my friend was able to keep up with me for the last race of the season, hitting his PR. The support from your teammates in cross country is like no other sport. There is a sense of brotherhood in this sport that no other sports have, even if you don't know everybody you still want to cheer them on.
Another common misconception about cross country was that it was extremely easy. At first, I thought this was true, but as the season progressed I realized that this was farthest from the truth. Cross country requires you to have a proper mindset, along with being in peak physical shape. By the end of the race, your body is yelling at you to give up but you have your mind is telling you to push. Without a strong mind, you can't compete in XC as you'll find yourself giving up. From my personal experience, I've wanted to give up so many times throughout my races, but with my mental as well as my friends cheering you can't stop and you don't want to. If you've ever watched someone race you can see them mentally pushing themselves. 
Throughout the season I enjoyed almost every course I raced on except for two. The majority of the courses were extremely fun and easy, these consisted of Greystone, a PR course. Warinanco is a relatively flat course. Throughout the season two courses stuck out as being extremely difficult, both for separate reasons. Holmdel is one of the most draining courses. The first mile of this course consists of up-and-down hills leading into one long downhill. From this, it leads you into the bowl the most draining part of the course. The bowl is an extremely steep hill that drains you of all your energy, most people tend to slow down after this part. After the bowl, the course is relatively easy. Secondly, there is Oak Ridge. It may seem like an easy course at first. It is mainly flat, but it can be one of the hardest courses mentally. This is so because on this course you have to do two laps. By the time you finish your first, you want to stop, but you mentally have to push through to finish, without support, you most likely won't be able to finish at the pace you do. Without support from my coach and teammates cheering me on I wouldn't have been able to improve as I did.
So overall if you're trying to get into shape, physically and mentally cross country is the sport for you. You learn to mentally and physically push yourself. You create bonds with your teammates like no other sports, pushing each other to beat your PRs. If I hadn't competed in XC I wouldn't have been able to work on my endurance as well as my mentality. The bonds I've created are still present even after the season. So I would highly recommend XC to anyone willing to give it a try.