When I am writing this article, it is Halloween!!! I, along with many classmates have dressed up for this Halloween and joined the 2023 Halloween Costume Contest. In this article, I will just give a quick debrief of all the costumes and which ones I believe should win.
Alexander Vreeling as a Gladiator
Pretty simple costume as a Gladiator. Alexander is seen here as a strong and mighty warrior of maybe Sparta/Athens? He has a strong heart when he battles his enemies in the Halloween contest competition. And he does all this with a smile on his face!!!
Marko Kenworthy as a Nerd 
Marko comes in hot with a balloon boy hat and a brain, bigger than the sun. Looking like a stereotypical nerd, Marko pulls this costume off very well. With the striped plaid pants and the bowtie to top it off. Thumbs up to Marko 👍
Nick DeRosa as a relaxed OP Senior 
President Nick DeRosa comes out calm, cool, and collected with a chill OP Senior fit. He pulls this off well with the Oratory Prep sweater merch and the OP sweatpants as well. He has a hat and glasses to really complete the look. He looks ready to graduate already.
Max Rezzonico and Paul Healey as Monks
Namaste Max and Paul. Both of these religious Monks come in looking amazing. You can see both of them with a cross,(one on the neck and one in hand). These Monks look ready to pray in their monastery.
Daniel Kandziolka as Danny Suarez
Daniel looks ready to just blaze through the competition!!! He is fitted from head to toe as Danny Suarez, an amazing Mexican race car driver. We can see the freeway jacket as well as the white pants to top it off. Pretty good costume in my opinion.
Mr. Manna and his Minions 
After his unique judgement during the talent show, Mr. Manna comes with 6 of his little minions to protect him. Both his minions and his gang of 7th graders will be ready to take anyone on in this school. Pretty good group costume, looks good.
Finn Olohan and Cathal Hislop as Mario and Yoshi
Finn and Cathal coming out with the classic, Mario and Yoshi. Finn with the hat and the jeans overalls to really pop as Mario. Cathal has the colors and looks just like Yoshi. I am guessing there was a hood to the onesie that really made him look like Yoshi. Good duo costume although Mario and Luigi works better.
Byron Mendez as a Firefighter and Jaden Medina as a Paramedic 
Byron and Jaden look ready to help the community, fighting fires and health problems along the way. They really look like real people with real work to do. Not much to say but good job!!!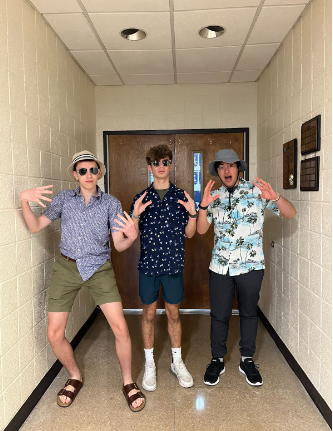 Matt MacNamara, Taylor Modeski, and Marco Bianchi as Florida men from Fortnite 
Matt, Taylor, and Marco look ready for the new anticipated update, coming as the Florida men from Fortnite. They all look ready to ride the waves in Fortnite, with tropical shirts and amazing shorts/pants. Taylor especially looks like he plays a lot of Fortnite in his free time. Great job!!!
Aidan O'Dowd as Donald Duck 
The amazing Aidan O'Dowd dressed up as Donald Duck. He can profoundly do an impressive job as Donald Duck. He can also impersonate Donald Duck to go with his costume as well, amazing!!!
CJ Tovar and Greg Gentile in Ghillie suits 
Where did CJ and Greg go? Both are in lovely camouflage that makes them scarier for today's Halloween. You won't want to encounter them at night, you may be scared. These two have such a simple costume and still were able to make it look great. Nice!!!
Josh D'cruz as Baljeet 
Josh D'cruz, one of my friends, dressed up as one of my favorite childhood show characters. I think this is amazing. He fits the role perfectly. He looks just like Baljeet, great job!!!
Arian Sabnekar as a Saudi Prince 
Arian has made this costume amazing. The striped red hat with the white robe really makes him look like a Saudi Prince. Simple but still amazing. 
Eric DeVomecourt as Big Bird 
I actually really like this costume. This costume Eric has on may seem simple but actually has a lot of detail. Not only do you have stripes on the legs but also colorful eyes. Great job!!
Graham Doyle as Death 
 Not much to say about this but amazing. Graham comes in hot with an all-black suit that makes him look like Death. Great costume.
CJ Marvin as Cartman 
Personally, this is one of my favorite costumes so far. I love South Park, one of the best shows of all time. CJ came in as cartman and hopefully will come out as a winner.
John Kennedy as Chick Magnet 
9th-grade presidential candidate John Kennedy comes in as a play on words, chick magnet. This guy may be a real chick magnet who knows? Great job!!!
Griffin Wright as Chipotle worker 
Pretty good costume, although simple still great. Chipotle is a great place to eat from so I cannot be mad at this. Not my favorite but still good overall.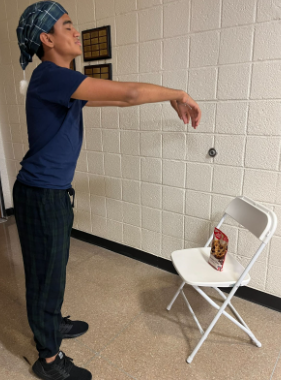 Nate Epps as Pajama Cartoon boy when he smells freshly baked cookies and floats out of bed
Amazing is all I have to say.
Mr. Sartori as Kendall Roy from "Succession"
I don't know much about the new teacher Mr. Sartori, but he looks fly in this costume. I've also never seen Succession so my judgment may be clouded, but this costume looks cool.
Cody Modeski And John Peterson as Hawaiian boys 
Cody and John look dashing in their Hawaiian costumes. Pretty basic but still good. We see the lei on John's neck and the amazing hat on Cody's head. Good job guys.
Matthew Donohue as Walter White 
I absolutely love this costume. Walter White is such an amazing character and his story was great. Matthew looks just like him, great job!!
Camilo Porras as Soccer player 
Looks just like a professional. Camilo is obviously sponsored by Red Bull and is amazing at soccer. Keep doing what you are doing.
Josh Grzyb as Doctor 
Professional doctor, Josh Grzyb, is in the building looking amazing. I'm sure he applies his chem smarts to his job. Great job!!!
Donald Yapczenski as 19th century Gent 
What a lovely gentleman. Donald is here in an amazing and luxurious costume that really encapsulates his personality.
Aiden Lontai as Willy Wonka 
Lontai dressed as the famous Willy Wonka. He pulls this costume off pretty well and there are a lot of small details that I really like. The glasses, colors, and shoes to match make it even better.
Abdul-Haq Adome as Iron Man after a visit from the IRS=
Abdul's costume was robbed by the IRS apparently. He comes in with a ripped-up Iron Man suit that got messed up over the years. Interesting costume that looks homemade but I think it's pretty unique. I've never seen someone do this, nice job.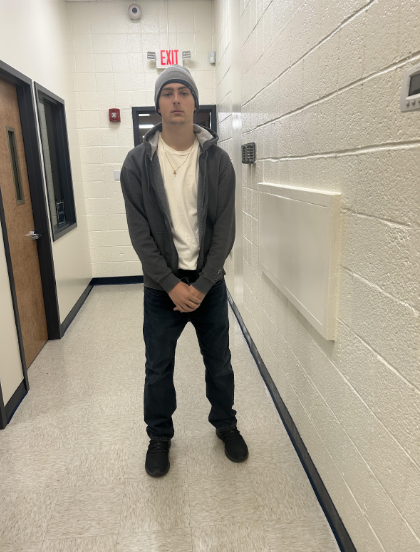 MJ Cohen as Eminem
Slim Shady, aka MJ Cohen, looks just like his counterpart. He has the calm and coolness of Eminem. It is a simple but cool costume, especially for one of my favorite artists around.
Mr. Hill as Mr. Spock
We come in peace. Great job Mr. Hill on this costume of Mr. Spock. He looks just like an alien from the show itself, nice!!!
Winners
#1: Mr. Manna And His Minions
#2: MJ Cohen
#3: Abdul-Haq Adome
Good job to all!