2023 Spring Sports Awards
On Monday, May 22, the Oratory community gathered for an evening to celebrate the athletic achievements of the spring sports teams. The baseball, lacrosse, track, tennis, and golf teams were all in attendance. The night began with Mr. Gist saying a few words about how proud he was of all the teams for their hard work and dedication. Then, all five head coaches spoke to the crowd about their teams and accomplishments. Each coach shared highlights from their season. 
The head golf coach, Mr. Lueck, spoke about how the team avenged an early season loss to Ranney. Mr. Blauner (Baseball) mentioned how his boys never stopped putting in the work day in and day out. Despite a slow start, the team finished as a top 10 team in Union County. The lacrosse coach, Mr. Hedengren, spoke about each player individually and how they made a positive impact on the team. He also talked about winning a share of the conference title, something that had never been done before in OP Lax history. Beloved OP Tennis coach, Mr. Manna, proudly held his team's conference championship trophy. Finally, Mr. Seebode (Track) spoke about how a few Rams would attend Nike Nationals in June.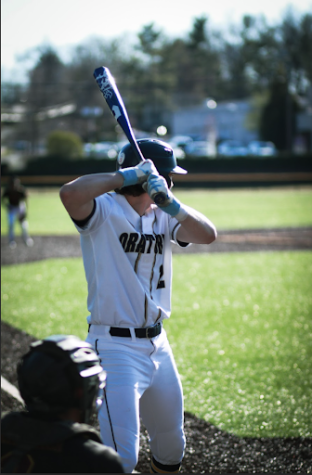 Mr. Costello closed the night by recognizing some individuals who performed beyond expectations. He mentioned Anthony Bibbo who led Union County with 6 Home Runs. He also named Harrison Lloyd who surpassed the 100-point milestone in lacrosse. Tommy Hunt was also recognized for breaking several school records on the track. Mr. Costello also reminded everyone that the weight room is always open. In order for OP to be competitive, every athlete must be in the gym during their respective offseasons.  
Every team had the opportunity to hand out three awards. The honors included: MVP, Coaches Award, and Most Improved. Below is a list of the winners for each team. Go Rams!
Tennis: 
Most Improved: Colin Reis
Coaches Award: Justin de Vomecourt
MVP: Rob Massaroni & John Shalhoub
Lax: 
Most Improved Award: Gus Russo
MVP: Quinn Boylan
Co-Coaches Award: Chris McNiff, Harrison Lloyd
Baseball: 
Most Improved: MJ Cohen
MVP: Anthony Bibbo
Coaches Award: Victor Larach
Track: 
Most Improved: Michael Kupetz
MVP: Tommy Hunt
Coaches Award: Seamus Vail and Patrick Feit 
Golf:
Most Improved: Dylan MacNaughton
MVP: Henry Bolster
Coaches Award: Jack Pastore