2 For The Price of 1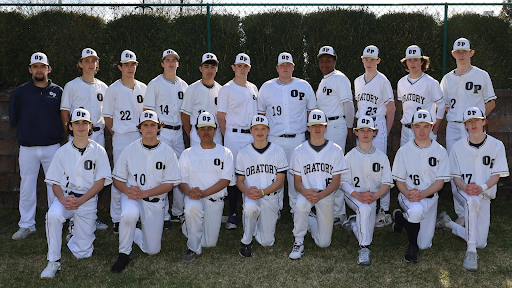 Last Saturday, Oratory's JV Baseball team had a thrilling win over Brealey. Coming from behind, the Rams had a clutch 7th inning 2 out rally to put them ahead. It was a truly team performance with everyone doing well. Most Notable, Peter Vanraamsdonk dominated on both offense and defense. Going 4 for 4 at the plate, Peter was a driving force behind the Ram's offense. Not only did he do amazing on offense as well, but defense too. Vanraamsdonk pitched 5 1/3 innings only letting up 4 runs with numerous strikeouts as well. Peter would set up Caden Breault to put on the finishing touches for the Rams as he earned the save, in a 8-6 Oratory win.
However, this was not a normal game. In this game the stakes were higher. Agreed on by both the Oratory and Brealey coach, this win would count as 2 instead of just 1. In the previous encounter between Oratory and Brealey, the game was tied 10-10 after 7 innings, after an Oratory come back from 10-2. However, the ump had to leave, and the game was unable to continue in extra innings. That is why both coaches had an agreement that whichever team won the next encounter, would get the win for both games. This was truly a make it or break it game for the JV Baseball team as a win would see their record jump to 9-5, or alost would make their record 7-7. Luckily the rams pulled through and are now sitting well above .500 with a record of 9-5.