Erling Haaland Breaks The Premier League Record For Most Goals Scored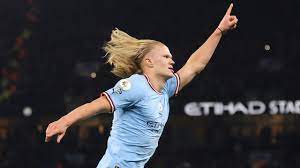 This season has been on for the ages for Erling Bruut Haaland(aka man child) has single handedly smashed every record whilst carrying his team to glory. Some could argue that he is so good he isn't even human(it is believed that he is robot, goal scoring machine).
On Wednesday May 3rd title holders Manchester city, set out to play West Ham United. The final score was 3-0 as City steamrolled through the match. Erling Haaland scored one of the 3 goals ensuring his name will forever be remembered in the history books.
In the pervious match against Fullham, Haaland tied Alan Shearer for most goals in a single season at 34 while playing in less matches than Shearer did.  In the match against West Ham he officially broke the record for most goals in a premier league season
At the beginning of the season many fans including myself wrote in regards to Haaland, "Oh he's just a bundesliga talent, he can't adapt to the prem" or "he is gonna flop the style of play in England is much different than Germany." It's safe to say that Haaland has proven everybody wrong by within 11 games he had already netted 15 goals.
As soon as he scored 15 goals in 11 games everyone knew he would break the record. The question was just when would he break and by how much. On Wednesday May 3 wefinally got our answer, and currently sits 3 goals over Mo Salah, and now one over Alan Shearer with 5 games left to play.
Other major soccer news
The Jude Bellingham saga seems to be set, with Liverpool officially dropping out of the race, Real Madrid are the frontrunners to sign Jude.
Messi has been suspended by PSG and has likely played his last game for the "French Giants." His contract expires at the end of the season and both the club and him have agreed to move on. Messi has 4 realistic options: signing with Al Hilal, the Saudi Arabian team offering him 400 million dollars, signing with MLS side Inter Miami, going back to Barca(if they are cleared for financial fair play), and lastly going to hisboyhood club, Newells Old Boys in Argentina.
PSG superstar Neymar was visited by angry fans at his Paris home demanding the player leave the club. PSG has since put out a public apology.
After retirement NFL legend JJ Watt and his wife have purchased a share of Burnley FC(soon to be promoted into the premier league)