OP Track Update: 4×100, Hunt Blaze Through Blue Devil Classic
On April 22, the Oratory Prep Varsity Track and Field team would compete at the Blue Devil Classic — a prestigious meet that has consistently been the fastest early-season race in the state of New Jersey. Considering that the 2023 Blue Devil Classic saw 18 NJ Top 10 times/throws and jumps, it is fair to say this year was no different.  One of these NJ Top 10's actually came from one of Oratory's own, Tommy Hunt. The Junior would not only run an NJ #7 time in the 800 meter, but would also win this highly regarded event in a time of 1:57.67. Placing 1st out of 56 of the states finest competitors and defeating Cherokee's Pat Ditmars (a Division 1 Commit), Hunt now ranks #2 in NJ's Class of 2024 for the 800, a great feat even if it is still very early on in the season.  This tremendous achievement would get even sweeter, as Hunt would also break the school record en route to the victory.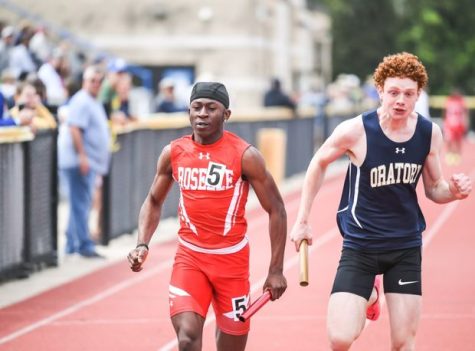 However, Hunt would not be the only school record breaker of the day; this is because the 4×100 composed of Patrick Feit, Michael Kupetz, Gabe Costa, and Seamus Vail would etch their names into the Oratory record books as well. A relay of all upper classmen, this 4×100 was poised to utilize their experience and do something special…and that's exactly what they did. This is especially impressive when analyzing that during the course of the meet, Michael Kupetz ran a personal best in the 200, Gabe Costa jumped to an official personal best in the long jump, while Seamus Vail and Patrick Feit both ran personal best in the 400 meter dash. This means that — aside from setting the school record in the 4×100 — each participant of the relay had an additional PR (personal record) in their individual events. Since the members of this relay are also best friends with Tommy Hunt, it certainly made the Blue Devil Classic a special day for the 2023 Rams. Noteworthy, is that Seamus Vail's time of 52.84 ranks him as #12 for the 400 meter dash in Non-Public A, respectively. On the track, many outdoor personal best were run by the Rams, including sophomore Declan Kelly's 800 meter that places him as the 3rd ranked sophomore in Non-Public A and CJ Tovar running 56.55 for the 400 meter. These personal best were among some monstrous throws by Oratory under-classmen, specifically James Martin's shot put of 42-7 that places him as the 20th ranked shot putter in NJ's Class of 2025. Stay tuned for an article focused solely on OP's "field" events that make the Rams so well rounded.