Varsity Baseball Performs Well In Back To Back Scrimmages In Preparation for Opening Day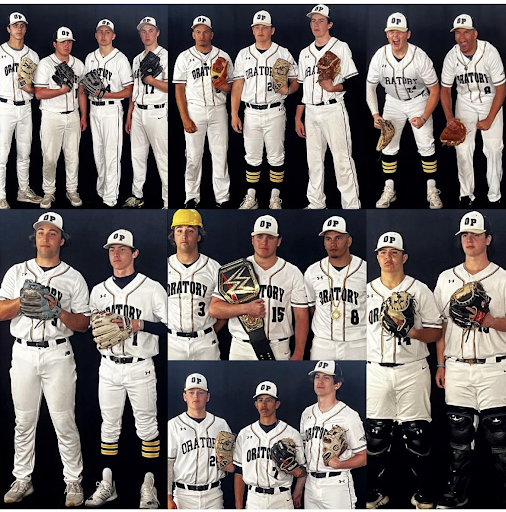 The baseball season has begun, the teams are prepared, and the final step before the opening day game against Johnson is complete. The Oratory Prep Varsity Baseball Team scrimmaged Gill St Bernards and Whippany Park last week in preparation for a successful season. Both scrimmages saw both teams battle to the bitter end, indicating that the Rams are ready to play at a high level against their opponents this season.
Scrimmage #1 Gill St. Bernards
Last season, the Rams faced Gill in a competitive game that ended 5-2 in Gill's favor. Because both teams' skill sets were similar, the two teams were in for a highly intense matchup before the regular season began. The Rams' starting pitcher was Michael Greco, who showed flashes of his dominance from last season, struck out three batters in the first inning, allowing only one run through two innings. The Rams made a few errors throughout the game, allowing Gill to take a 4-0 lead; the Rams would fight back to keep the game interesting until the final pitch. The Rams scored two runs in the bottom of the fourth inning, cutting Gill's lead in half. Cole Lilore would make his varsity debut in the top half of the fifth inning, allowing no runs across the board. With Gill scoring two more, the Rams responded with two of their own until the game was called off, leaving the score 6-4 in favor of Gill.
Scrimmage #2 Whippany Park
The Rams would face Whippany Park, whom they had also faced last season, with the game ending in Whippany Park's favor. Junior Robbie Costello took the mound for this one, allowing only one run in two innings of work. The Rams took an early lead thanks to a Matt Seelagy RBI double, which Oratory eventually extended to 3-0. After Costello, senior captain Kevin Colandrea pitched two innings, allowing no runs and striking out three batters. Oratory's sophomores Ryan Santoriello, George Fagan, and Ben Gaffney would finish the game. They combined to pitch three innings, allowing one run, four strikeouts, two walks, and one hit. Victor Larach's diving double play was crucial in allowing only one run and keeping the Rams' lead intact. The Rams would win 3-2, establishing themselves as a difficult team to beat this season.