OPTF Update: Rams Dazzle at New Balance Nationals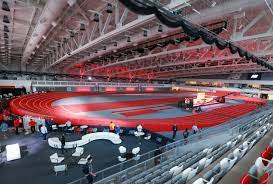 Boston, Massachusetts — the location of New Balance Nationals, marketed as the "Fastest Party On The Planet"… and fast it was. With the nation's top talent all meeting at "The TRACK" at New Balance, this meet would be a spectacle for all to see. In terms of the Rams, they were faced with unbelievably strong adversaries in the Sprint Medley Relay (SMR), including eventual SMR National Champions Seton Hall Prep, of whom Oratory beat in the Distance Medley Relay at the Non-Public NJSIAA State Championships. For context, the Sprint Medley Relay is a race composed of a 200 meter leg handing off to another 200 meter runner, before the stick is passed to a 400 meter runner, who passes it to the anchor 800 meter leg – whose impact can make or break a race. The Rams were led by the veteran leadership of Captains Patrick Feit and Tommy Hunt, who were accompanied by talented under classmen Declan Kelly and Emmanuel Canuto. On the brightest stage, Ram Nation Track Club was looking to represent both Oratory and New Jersey in the finest fashion possible. Moments before the commencement of the Sprint Medley, the Rams were placed in lane 4, the ideal location for an elite location such as "The TRACK" at New Balance.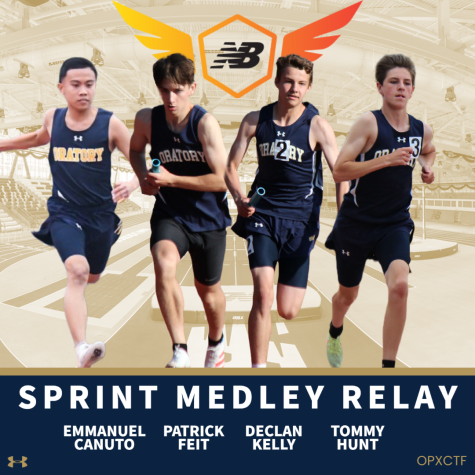 As the first leg, it was Senior Patrick Feit's responsibility to get the Rams out into good position. Running a season's best 24.2, Ram Nation stood in 5th place for their heat. Feit would pass the stick to Freshman Emmanuel Canuto, who would deal with all the pressure that comes with being a freshman at NBN, and would keep the Rams in 5th out of 6 teams in the section. Declan Kelly would then maintain 5th position, running a personal best 53.8 in the 400 before passing the baton to Tommy Hunt. Hunt, the school record holder in the event, got the stick around 35 meters behind the pack of the first 3 teams. However, he was able to rally and close the gap, even out-kicking multiple runners to have the Rams finish second in the heat. Hunt would split 1:58 for the half mile, finishing off the 13 second school record in the Sprint Medley Relay, which previously stood at 3:55. Oratory's time of 3:42.92 was not only good enough for a school record, but also earned them 28th place for their division, a tremendous accomplishment at NBN.
*Special Shoutout to all those who watched the race live, especially the seniors at the OP Rowdies Watch Party