OP Hoops Update: Pirone Scores 1,000th Career Point, Rams Win on Senior Night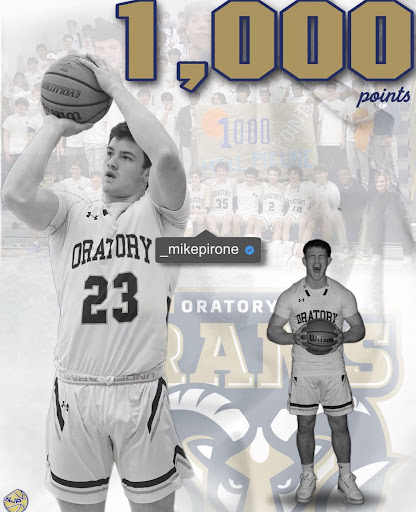 Over the four year span that Mike Pirone has attended Oratory, he has proven to be one of the most prolific scorers in OP Hoops history. The 4-year varsity guard exemplified his unparalleled scoring ability in the Rams Senior Night victory over Pope John XXIII Regional High School, as the Susquehanna commit became the first player repping Oratory's blue and gold to join the 1,000 point club since Scott Miller did so in 2011. As significant of an accomplishment that earning 1,000 career points is, it is noteworthy that a lingering injury caused Pirone to miss 12 of Oratory's 25 games played this year, while Covid concerns cut his sophomore season to just 15 games – all of which were played in empty gyms without the infamous Rowdies in the stands.  However, it is evident that Pirone's junior season more than made up for lost time, considering he averaged 17.0 points per game and totaled a team high 425 points en route to a Union County Conference Championship. When asked about the Senior Captain, Coach Daughtery provided the following commentary: 
"Mike – the greatest scorer I have seen in my time at OP. Plays the game with a warrior mentality; he embodies the competitive spirit we try to bring every day we step on the court. Although we're sad to see him leave, he is set to do great things at Susquehanna next season." – Coach Daughtery.
Coach Daughtery also emphasized the vast impact that all the seniors on the team this year have had on the program. These senior's aside from Pirone included managers Kal Mitchell and Chris Cowell, along with the injured yet optimistic Will Olohan and the lights out shooter that is Greg Jones. Jones, a fellow Captain, would prove to be greatly important in the Senior Night matchup against Pope John, with his 26 points being a game high. Junior John Pirone would also help to ensure that OP's Senior Night would not be spoiled, as his 5 made three's were a game high while his 17 cumulative points were essential in the Rams 4 point victory. Defeating Pope John by a score of 63-59, the Rams advanced to a record of 14-11 by earning a win against a Non-Public A opponent before heading into the state playoffs. On February 22nd, the Rams will face Depaul for the first time since 2017, where Oratory will need to fight for their first win against the Spartans in program history in order to advance further in the State Tournament.