Super Bowl Preview: Who Will Win it All?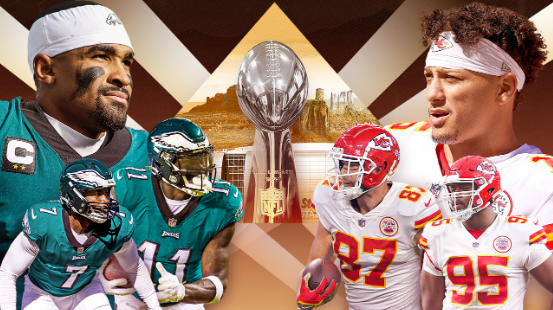 The Chiefs are facing off against the Philadelphia Eagles in Arizona to determine who will win Super Bowl 57. The Chiefs have a good amount of experience in the Superbowl, having appeared 3 times in the past 4 years. The Eagles have barely any experience, having first-year coach Nick Siranni and a team filled with young players who have never been to a Superbowl. Experience may play a role in this game, but what else will affect who wins this game? 
Kansas City Chiefs v. Philadelphia Eagles (Super Bowl 57)
The Kansas City Chiefs, led by recent league MVP award winner Patrick Mahomes II, Defensive Player of the Year finalist Chris Jones, and Head Coach Andy Reid, have power on both sides of the ball. The Chiefs' offense is ranked 1st in offense and 11th in defense. None of the Chiefs players are on the injury report leading up to the game. This means that the recent injuries to Patrick Mahomes, Travis Kelce, and others will likely not materially affect them in tomorrow's big game. The Philadelphia Eagles, led by MVP front-runner Jalen Hurts, fourth in Defensive Player of The Year voting Hasson Reddick, and first-year head coach Nick Siranni, seem unstoppable – with a solid offense and dominant defense, and star power littered all over the field. The Eagle's offense was ranked 3rd and their defense was ranked 2nd in the league this season. Just like the Chiefs, the Eagles do not have any players on the injury report leading up to the game.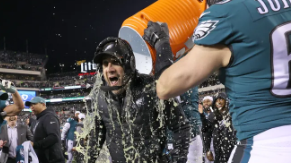 Prediction: I believe that the Philadelphia Eagles will win this year's Super Bowl. Why? First off, the Eagles have the number 1 ranked o-line in the league (all offensive linemen were selected to the Pro Bowl either as starters or alternates).  The Eagle's offense will likely be able to adapt against the Kansas City defense during the game – with star players like AJ Brown, DeVonta Smith, and Dallas Goedert in the passing game, and Miles Sanders and Boston Scott in the running game, the Eagles will be almost impossible to game plan against.  Not only this, but Patrick Mahomes has struggled against Super Bowl opponents, throwing for a total of 556 passing yards, two touchdowns, and 2 interceptions in two Super Bowls. Patrick has never gone over 300 yards passing in a Super Bowl – and I expect this trend to continue as the Eagle's defense will be flying around the field causing havoc all game long. Get ready because this Super Bowl belongs to the Eagles. Fly Eagles fly!
Leave a Comment