OP Mock Trial: Success in First Round of County Tournament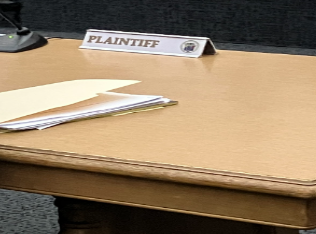 "2-0." This was the message sent to the Mock Trial group chat by yours truly, which served as a disparity to the many "jerk" jokes previously sent. It was also the OP Mock Trial team's record this week after two trial competitions.
In order to advance to the next round, you had to win one out of two competitions. This made the first trial on Tuesday all the more nerve-wracking for the Plaintiff's team. As the team sat in a very beautiful courthouse 15 minutes early waiting for their opponents, you would expect tension and anxiousness, but instead, you saw two very calm attorneys, Patrick O'Neill and Andres Hernandez, take complete charge. When it was time to go up to the stand to give their testimonies, Marco Buonaiuto, Samuel Nnadi, and Joey DiRienzo, gave them very loud and confidently. Because of this combination, Oratory Prep ended up winning their first trial of the season!
On Thursday, the defense team was up. You could tell that the team overall was less nervous than on Tuesday, as evidenced by the bus ride there. On the bus, someone on the team accidentally knocked over a cup that seemed to be empty, only for a drip to get on Coach Mr. Martin's jacket. The coffee stain could be seen from all the way in the United Kingdom, but it didn't bother Mr. Martin much, symbolizing the icy-cool nature of the team that day. Although it was all jokes on the bus, once we got to the courthouse, it was all business. The defendant, Josh Jones, sitting next to his attorney, Aryan Sabnekar, were both evidence of this, as they were very good at testifying and questioning that day. Even the doctor, Joshua D'cruz expertly answered all types of questions being thrown at him, sounding very bold and believable, and giving off the impression of a real doctor. The Mock Trial team ended up winning this trial as well, making it two trials won.
So after a successful week, Oratory Prep moves on to the semifinals in the Union County Tournament. Whether it is the plaintiff or the defense team going, make sure to wish anyone you know on Mock Trial, good luck on 2/21 (or 2/22).