OP Hoops Update: Rams Dominate Governor Livingston, Earn 10th Win of the Season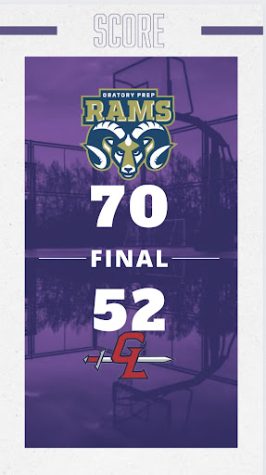 On the road against rival Governor Livingston, the Oratory Prep Rams were looking to build upon the positive momentum established in OP's double-digit victory over the New Providence Pioneers. With recent Susquehanna commit Mike Pirone back in the starting lineup – the Rams were looking more dangerous than ever, having won 3 out of their last 4 games. Mike was joined on the perimeter by Asher Bradley, Greg Jones and John Pirone while Patrick Conniff, who scored in double digits in the past 4 games, rounded out the starting 5. As the game commenced, the brotherly duo of Mike and John Pirone would instantly make an impact. From behind the arc, 2 of Mike's eventual 5 three's came in the first quarter, while aggressive defense from John Pirone led to points in transition and gave the Rams a 14-7 lead to end the first. To start the 2nd, Coach Daugherty would display a coaching masterclass by instituting a press that would completely raddle the guards of the GL Highlanders. This full-court press would spark a 13-5 run which would force Governor Livingston to call a timeout with 2:35 left in the quarter. The run would increase to 21-5 after just one minute and four seconds of game play, leaving GL Coach Loeffler in shambles as he would call another timeout with 1:34 remaining in the first half. With under 2 minutes to go in the quarter, the Rams tenacious play would continue and cap off a 29-9 2nd quarter run.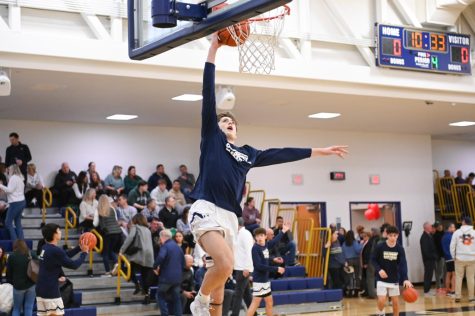 On the offensive end, three's from John Pirone, Greg Jones, Asher Bradley and Mike Pirone would contribute to the Rams 2nd quarter explosion while blocks from Mike Pirone, Asher Bradely and Pat Conniff would hold the Highlanders to just 9 points in 8 minutes. John Pirone would tally 3 steals in the 2nd quarter while Mike Pirone and Asher Bradley would each have 2 second quarter steals to help establish Oratory's astonishing 43-16 lead going into half time.  In spite of the large lead, the 2nd half had no shortage of exciting plays. This was especially exemplified by an Asher Bradley steal and near-full court pass to Patrick Conniff who threw down a thunderous dunk mid-way through the 3rd quarter. Also in the third was John Pirone's fourth 3 of the night. His 18 points would be a game-high if not for Captain Mike Pirone's 21 point performance. Sophomore Asher Bradley would score 13 while Senior Greg Jones chipped in 10 points in the 70-52 victory. Patrick Conniff, Nick Servitto and Max Cook also appeared in the box score and contributed to OP's 42% shooting from the field. Oratory will face off against divisional opponent Cranford to kick off February, before facing Rahway in the first round of the Union County Tournament.