Winter Track Update: Rams Set School Records At State Relays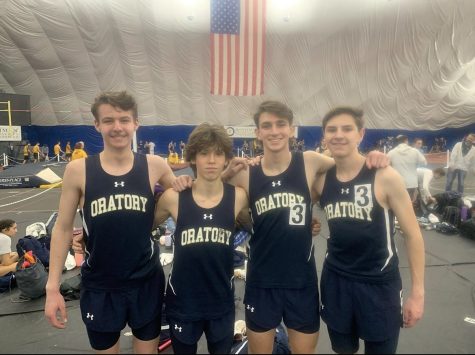 January 13th – Bennett Indoor Athletic Complex. The location in which the Non-Public A State Relays would commence, and where the Oratory Prep Rams faced off against 3 top 10 teams in the state. These teams consisted of Christian Brothers Academy, who won their 8th straight State Relay title, Seton Hall Prep, who just recently ran the US #1 time in the 4x400m relay, and the Hudson County Relay Champions, St. Peters. In spite of tough competition, the Rams would prove to be equipped to face the challenge by the very first event of the day. This first event was the distance medley relay (DMR), which is composed of a 1200 meter leg, 400 meter leg, 800 meter leg and a 1600 meter (mile) to finish it off.  The 1200 first leg was run by Sophomore Declan Kelly in 3:23.  He would pass the stick off in 4th, one place behind Seton Hall's Nick Devita – a UPenn commit. Kelly's time of 3:23 was a new personal record and was one of the most consistently paced races he has run all year. With Kelly's 4th placed 1200, he set up Senior Patrick Feit in a good position for the 400 meter carry. Feit would maintain position, remaining in 4th for the entirety of the quarter-mile distance. Receiving the stick from veteran Captain Pat Feit was Freshman Connor Bassolino, who would then step up in a big way – running a 2:15 half mile to pass the stick off in 5th. If Bassolino had run this 2:15 800 meter in an open race rather than a relay, it would of ranked as the #10 time in NJ's class of 2026. Connor would then complete his duties by handing off to Tommy Hunt. Although the baton was now in Hunt's hand, there was not the same sense of certainty present as usual. This is because the Junior mile runner was in his true first race back from a calf injury suffered on December 30th. Due to this, Hunt took a much more conservative approach than normal, yet he was still able to make up ground on both Delbarton and Seton Hall Prep. His 4:39, although slower than his sophomore mile, was just enough to be rivals Seton Hall and Debarton at the line. However, even more notable than beating both Seton Hall and Delbarton is that the Distance Medley Relay ran a time of 11:17 – which is seconds under the Adidas Indoor National Championships qualifying standard. This means that the relay team of Kelly, Feit, Bassolino and Hunt will have an opportunity to run at the national championships in March, a tremendous achievement. This time of 11:17 was also the Oratory School record in the event, and considering it was with a freshman, sophomore and a runner coming off of injury, it certainly shows that the Rams could run some tremendously fast times in the future.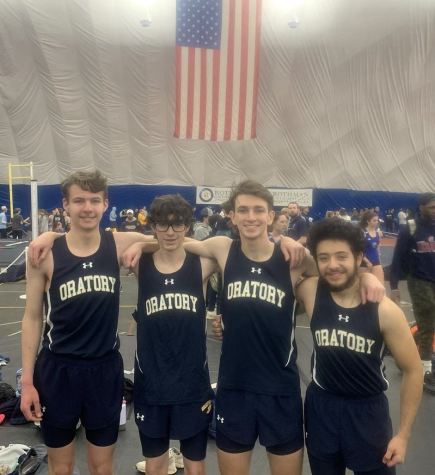 Another relay where the Rams were able to place in scoring position was the Varsity SMR (400, 200, 200, 800). With Hunt being limited to just one race, Declan Kelly was slid into the 800 meter anchor leg and Freshman James Nolan was entrusted to run the 400. In his opening leg, James Nolan had a breakout performance, running 57 seconds for the quarter-mile. With Senior Stephen Tuite not able to compete, Nolan then passed the baton off to Junior Jaden Medina, who would get the stick to Pat Feit in a competitive position. Feit would then run a solid 25 second 200 meter before handing off the stick to Declan Kelly. In his 2nd race of the day, Kelly would run his 2nd personal record – this time in the 800 meters. Kelly's time of 2:05 played a major role in the team's 5th place finish. The overall time of 3:55 was also a school record – which is especially notable considering that varsity athletes such as Stephen Tuite and Tommy Hunt were absent from the relay. Running a time of this magnitude in the absence of these runners is only a sign of good things to come for the Rams as the season continues. With this meet concluding what is known as "relay season", the Rams have an overwhelming sense of momentum and will plan to make some noise at the Union County Individual Championship on January 29th.