Basketball Update: Varsity Hoops Dismantles Rahway, Improves to 5-3
After losing two straight by a combined 6 points, the varsity hoops squad was looking for a bounce back game against in-conference opponent, Rahway. After a mediocre first quarter, the Rams were leading by a score of just 9-5. However, in the 2nd quarter the Rams hit their stride – out scoring Rahway 18-11 before heading into halftime up 27-16. Through this first half, Greg Jones put the team on his back by scoring 17 of the Rams 27. These 17 points were more than the entire roster of Rahway had accumulated throughout the first half. Out of the break, an offensive explosion fueled a 32-10 run by the Rams. During this explosive 3rd quarter, Senior Greg Jones' night ended.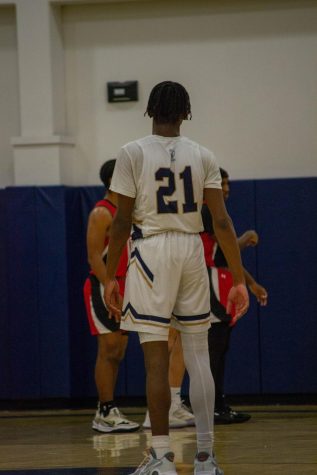 Jones comfortably sat on the bench with a well-rounded stat-line of 21 points, 4 rebounds, 4 assist, and 4 steals. Greg had a lights out shooting night, shooting 86% from the field and 50% from long range. Soon after, Sophomore Asher Bradley took a seat having dropped 20 points, to go along with 2 assists and 2 steals. Junior John Pirone tallied his 6th game of the year in double digits while his classmate Patrick Conniff was 2 rebounds shy of a double-double. In the 4th, strong defense was played by Juniors Max Ince, Nick Servitto and Gabe Costa. Servitto, although not a starter, put on a clinic during the 4th quarter shooting 100 percent from the field and helping to extend the Rams lead even further. The final score showed Oratory winning 69-39. This 30 point win was the Rams 2nd largest margin of victory this season, and sets them up well for conference play. The Rams look to carry this momentum into a stretch of 5 games in 9 days – 3 of them being on the road.
                                   Next Home Game:
January 17th AGAINST Hillside 
7:00 pm @ The Rams Den
Be There.