Interview with Second Year Varsity Swimmer, Henry Crowther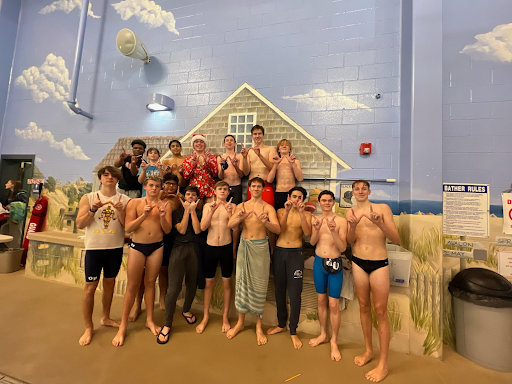 Henry Crowther has been one of the key components to the varsity swimming team as a sophomore. That's why I am glad to be able to sit down with him, and ask him the following questions:
-What are your goals for this season so far and what do you look forward to?
This year we have a lot of good freshmen, which adds a lot of depth to the roster. I definitely want to make a good run in the state tournament and place well at counties. 
-What has been your biggest accomplishment so far as being a swimmer at Oratory?
My greatest accomplishment has been placing 4th at the prep championships last year. It is the best feeling I have had, and it is one I will remember for the rest of my career!
-What is your favorite event and why?
My favorite event is the 400 medley relay. It is the last event of the meet, and everybody gets really hyped because the relay can win or lose the meet.
-What has been your favorite meet in the last two years at Oratory.
My favorite meet was our recent win against GL. We were swimming fast and cheering our teammates on (Mr. Manna was also there). It was also nice to win against a team that blew us out last year.
-What have you learned from the older guys on the team, and how have they treated you?
In my two years swimming for OP I've learned how to really be part of the team. We are all really good friends and will always support each other. It is such a great environment to take part in!
-Where do you want to see yourself at the end of your swimming career at Oratory?
I would like to be the captain of the team in my senior year, but I would also like to see the team succeed. If we can continue to grow the team and get faster we can definitely climb the rankings.