HEROES & VILLAINS Review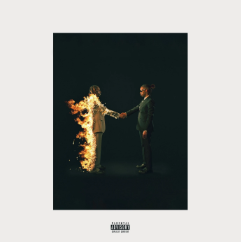 On December 2, Metro Boomin released his 15-song album HEROES & VILLAINS. Featuring the likes of 21 Savage, Don Toliver, and The Weeknd, Metro shows his versatility with this album by filling it with a diverse arrangement of sounds and genres. From the soft sampling of Mariano Winans, "I Don't Wanna Know" on Creepin with The Weeknd, or the hype of the piano loop on "Walk Em Down" with 21 Savage, there is a song for everyone on this album.
At first, I couldn't think of how to describe the album. I listened to songs over and over and couldn't think of anything — there wasn't a single unifying aspect that I could latch on to. And to be honest, I still can't think of anything. And I think that's due to the wide variety of musical styles and tones in the album, there's nothing to expect. I don't think that's a bad thing, because that means no matter what your type is, there's bound to be a song you like on the album.
My favorite song is definitely "Creepin," I already like The Weeknd and 21 Savage so hearing them on a song for the first time was the highlight of the album for me. I did think it was a bit of an odd combination though, I don't think 21 really does well on heartbreak songs, and I definitely believe that The Weeknd carried. My second favorite song is "Too Many Nights," the beat sounds like it was specifically made for Don Toliver's style of rapping.
I was most disappointed with "Walk Em Down" featuring 21 Savage. The song was excellent, but the second part with Mustafa completely killed the hype mood the song was going for. If Mustafa's part was that important to the album, he should have just put his part on a separate track and labeled it as an interlude.
I'd give the album a 7/10.