The Goal Post: Thanksgiving Feast Edition
Nothing is better than sitting with friends and family on Thanksgiving and watching a full day's slate of football games. This article focuses on the major takeaways from the Thanksgiving day games, which will be useful for fantasy team owners as the season progresses toward the playoffs. 
This article assumes the following:
Full Point Per Reception (PPR) Scoring.

Statistics via ESPN Fantasy App.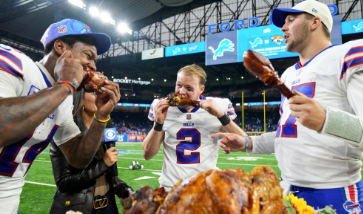 Josh Allen is clearly injured, and not looking the same since the loss against the New York Jets where he injured his shoulder/throwing arm. This hurts fantasy owners that own Allen but helps Devin Singletary owners. Before Josh Allen was injured, Singletary averaged 10 carries a game – now, after the injury, Singletary averages 15 carries a game. Singletary has crept into the RB2/Flex starting position conversation.
Jamaal Williams is not the best running back on the Lions but is the best back for fantasy purposes as he is the goal line runner for the Lions. D'Andre Swift is clearly the more skilled running back, but nagging injuries and coaching decisions holding him back, Jamaal Williams has been on the field much more and is being used in virtually all goalline situations, scoring an absurd 13 touchdowns thus far this season. Williams is very similar to former Patriots and Eagles running back LeGarrette Blount due to how both were used mostly on the goalline due to their strength and ability to plow into the end zone.
Dawson Knox is overrated, at this point merely a touchdown-dependent tight-end asset for owners' squads. Knox only had 2 catches for 17 yards and did absolutely nothing for most of the game. This was his second-worst performance this season, scoring 1.5 in week 1 against the Rams. Now with Josh Allen's injury affecting him, Knox is likely for the most part going to be useless for the remainder of the season.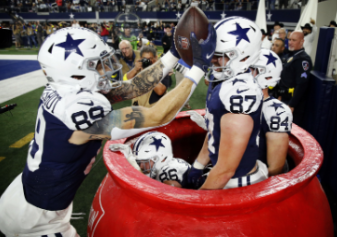 New York Giants v. Dallas Cowboys:
The Giants are struggling, especially on defense. The Giant's defense has been the reason why the Giants have lost most if not all of their games so far this season. Sure, the Giants are obviously a weaker team than the Cowboys, but the Giants should have easily beaten the Lions and the Seahawks earlier this year. This Giant's offense is beginning to decline as well, with Daniel Jones having thrown two interceptions against the Lions in week 11 and struggling to produce much offense against the Cowboys. 
Feed Zeke! Ezekiel Elliott was on fire against the declining Giants' defense, running for 92 yards and a touchdown – one of his best games of the season thus far. Though most people still believe Zeke should be the starter (including the Cowboys' owner, Jerry Jones), I believe that he should split snaps with the younger and more explosive Tony Pollard. Pollard is an amazing running back as well, averaging 14 points per game as a supposed backup and providing standalone value beyond being Zeke's handcuff for fantasy purposes. If they split snaps, this Cowboy's offense can be even more dangerous than it already is. 
Is Dak Prescott declining or just flat-out bad? Prescott, though suffering an injury earlier this season, has averaged 18 points per game, which is not what was expected from a supposed top-10 quarterback. In my opinion, Dak Prescott is neither declining nor bad, but has lost his footing and needs to regain it if he wants a chance to lead this contending team to a Superbowl.  There is a rumor that former Giant, Odell Beckham Jr. will be joining the Cowboys in the next few weeks.  If this happens, it will provide Prescott with another weapon heading into the stretch run of the season.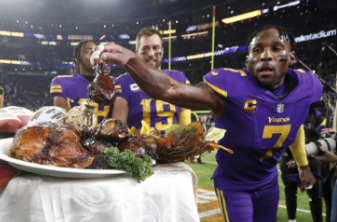 New England Patriots v. Minnesota Vikings: 
Mac Jones seems to finally be injury free at this point in the season. Jones had a decent game Thanksgiving day, throwing for 382 yards (the most this season thus far) and 2 touchdowns (also his season high) in the Patriots' loss against the Vikings. Mac Jones finally looks like a top-15 quarterback, but it might have come too late for Jones and the Patriots. Though Jones has found his footing, he is now going to be facing more difficult teams than ever before – facing off against playoff teams such as the Bills (twice), Dolphins, and Bengals. 
The Vikings arguably have the best offense in the NFC. Justin Jefferson, Dalvin Cook, TJ Hockenson, and others have been key tributers to their amazing season. Jefferson, expectedly, caught 9 passes for 139 yards and a touchdown. Dalvin Cook ran for 42 yards and caught 5 passes for 14 yards to put up 9.6 points. TJ Hockenson caught 5 passes for 43 yards and a touchdown in his 4th game as a Viking. Adam Thielen also caught 9 receptions for 61 yards and a touchdown, his second of the season. Lastly, Kirk Cousins threw for 299 yards and 3 touchdowns, his most thrown in a game thus far. Cousins and the rest of the offense of the Vikings will have Vikings fans chanting "SKOL" for the rest of the season.
Leave a Comment