OPXC Update: 2022 Season Comes to a Close
Now that the Fall Sports Awards ceremony on November 15th has passed, the 2022 Oratory Cross Country Season has officially come to a close. Cross country is one of the most mentally and physically demanding sports there is so to have completed the season is an accomplishment in it's own right, let alone win an award.  For those who did win an award, all of OPXC congratulates you. The first of the awards was given to James Milton, as he was named the Most Improved Runner. Milton, a sophomore, won this award largely due to how his first race of the year was run in a time of 23:27, yet his final race of the year just 2 months later concluded with a 19:57 minute 5k. With progression like this, Milton has a shot of entering the Varsity 7 sometime in the next 2 years.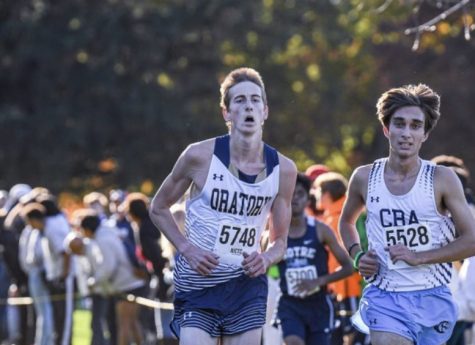 As for the Coaches Award, Senior Gus Russo won this award for the 2nd time in 3 years. Not only a dependable runner, Gus has had an extremely positive influence on the team. As good of a runner Gus was, most would agree that he was an even better teammate. The 3 year varsity runner and 2 year captain will be greatly missed by each and every member of the squad, as he was missed at the Non-Public A Championships. Due to sickness, Gus was sidelined for what was a majority of the varsity team's final meet.  In his absence, Conor Heffernan stepped up as the alternate to fill the empty slot in the lineup at the  Non-Public A state meet.  Along with Heffernan, Tristan Knight, Tim Callahan, Connor Bassolino and Declan Kelly all had strong conclusions to their seasons.  For front runner Tommy Hunt, this was not his last race of the year as he qualified for the NJSIAA Meet of Champions. The Meet of Champions (MOCs) is a race compiled of only the fastest runners in the state. It was a tremendous honor for Hunt to qualify for MOCs, being that he was only the 2nd Oratory runner since the move to Non-Public A (the fastest group in the state) to qualify for this meet. However – considering I am Tommy Hunt – I am sure he would tell you he could not have made it without the exceptional coaching job done by Coach McCrystal, Seebode and Crum – while the guys on the team were also prominent in the road to MOC's. Hunt is equally as appreciative to have won MVP, but deeply sorry for not seeing Conor Heffernan's hand after receiving the award as he did not mean to leave him hanging. For more information on Hunts journey to MOC's, check the OP website in the coming days for an exclusive interview.