OPXC Update: Rams Reach Podium at NJCTC's
       Oak Ridge Park – October 29th – New Jersey Catholic Track Conference (NJCTC) Championships. Being just days away from Halloween, this time of year is often considered "Spooky Season" – ironically matching up with the time of year that OPXC is looking most scary. At NJCTC's the Rams showed out for a breakthrough performance that, although late in the year, finally showed what the 2022 Rams could do. As for the JV team, Junior Conor Heffernan stepped up to lead the way for the young squad – running a personal best of 18:41 and placing in medal position. Despite being on the outside looking in as the season comes to a close, Heffernan will definitely be a crucial member of next year's varsity squad, in terms of both speed and leadership. Additionally, Freshman Shane Costalos placed in medal position after running a 1 minute and 23 second personal best of 19:12, ending his freshman year campaign in a strong way. The rest of the JV team also had many personal bests, further showing the potential of the young team. Underclassman James Milton, Austin Knight, Cathal Hislop, Aidan Wizeman, Jack Salaki, Kanayo Iwelumo, Henry Morgan and Aiden Lontai all ran personal bests. Senior JV runners Michael Buonaiuto, Luke Hobbie and Ahadu Kebede also ran personal bests, while Brendan Milton, Colin Reis and Patrick O'Neill all gave valiant efforts in the last race of their career.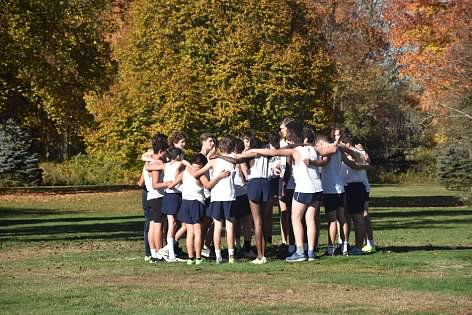 Moving on to Varsity, Tommy Hunt was yet again the top finisher for OP – placing 11th overall in 16:35. However, the real story came from OPXC's #2, Senior Gus Russo, who ran a 27 second personal best of 17:20. The senior captain was due for a big race all season; his timing of this race being at a major championship was impeccable, on senior night nonetheless. Russo's time of 17:20 cleared a solid path for Sophomore Declan Kelly's personal best of 17:30 – the 5th fastest time ever run by an Oratory sophomore. A big performance was also run by Freshman Connor Bassolino who ran a personal best of 1 minute and 9 seconds. Bassolino's time of 18:01 makes him the 4th fastest Freshman in Oratory history. The scoring 5 was then completed by Sophomore Tim Callahan in a surprising 18:03. The transfer from Summit had never run below 19 minutes in a 5,000 meter race, yet his colossal performance at NJCTC's placed him just 3 seconds away from breaking the 18 minute barrier. This performance was not only crucial to the team scoring, but also makes Oratory even more of a threat going into the Non-Public A State Championships on November 5th. Personal bests were also run by the Rams 6 and 7 runners – Bobby Bajkowski and Tristain Knight. Although they did not count for points, both Bajkowski (18:21) and Knight (18:30) provided much needed depth for OPXC. Considering that Bajkowski is a junior and Knight is a sophomore, they will both be returning to next year's team, and will look to have big performances at the State meet next weekend. To grasp the magnitude of this performance, OPXC's scoring 5's average time has only been below 18 once this season, that being 17:57 at the Stewart Memorial Invitational, which was also at Oak Ridge Park. Now back at Oak Ridge about a month later, the Rams dropped a top 5 average of 17:30, the fastest it has been in the past 3 years. Also, going into NJCTC's the 2022 Rams had not had a race in which all of the scoring 5 were sub 18:30, nor have they had a race in which all 7 varsity runners were under 19 minutes. In spite of this, OPXC had 7 guys run 18:30 or better, the scoring 5 were all sub 18:05 and 8 total runners ran below 19 minutes. This performance was good enough to place 2nd, only behind perennial powerhouse Union Catholic, which gives the Varsity Rams and the few alternates continuing their season vast amounts of positive momentum heading into the Non-Public A State Championship.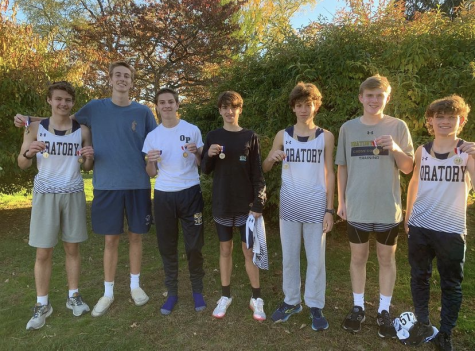 After this phenomenal day of racing, it was only right to reward our seniors. After a brief moment of speeches and pictures, the team indulged in a celebratory way to honor our seniors. Augustus Russo, Michael Buonaiuto, Luke Hobbie Brendan Milton, Colin Reis, Patrick O'Neill and Ahadu Kebede will all be missed, thank you for positively affecting impacting the program.