OPXC Update: Rams Tackle Union County Championship
October 20th. Warinanco Park. The historic course that holds the annual Union County Championship was set for another year of competition, and it did not disappoint. With three teams ranked inside the top 10 of the state rankings competing, it is easy to say there was no shortage of competition; however, it was the top tier competition that drove out some big performances from the Rams. Also notable is that Warinanc0 is 5,150 meters – longer than the typical 5k distance, adding an extra element to the uniqueness of Warinanco Park. 

Varsity was yet again led by Junior Tommy Hunt, who ran 16:31 on the slightly longer course. This time roughly equates to a 16:03 5k – 49 seconds faster than his previous personal best. His time of 16:31 was 3rd all time for Oratory runners at the course, only behind 2x County Champion Max Russo. Although it was a big individual race for Hunt, he could not have reached this time if it weren't for the high caliber runners that surrounded him. One of these high caliber runners is Sophomore stand-out Declan Kelly who ran a time of 17:51 – 27 seconds faster than Hunt did in his Sophomore year at Warinanco. Also notable was Senior Captain Gus Russo who, in his last County Championships, ran a time of 18:19. Russo has had an astronomical impact on the team, as shown by how he placed in scoring position for the Rams for 3 straight seasons. The scoring 5 was then rounded out by Junior Bobby Bajkowski and Sophomore Tim Callahan. Bajkowski was able to finish in a time of 19:01 – just 2 seconds behind his time from last year despite being fresh off an injury that sidelined him for about month. Tim Callahan, more commonly referred to as Timmy C, was able to make a contribution to the team in just his first season as an Oratory Ram. The transfer from Summit came through the line in a time of 19:08 – a time that is faster than any 5k he has ever ran – even though it was on a longer course. The Varsity 7 was then concluded by freshman Connor Bassolino, whose potential is overwhelmingly high, and junior Conor Heffernan who was battling sickness.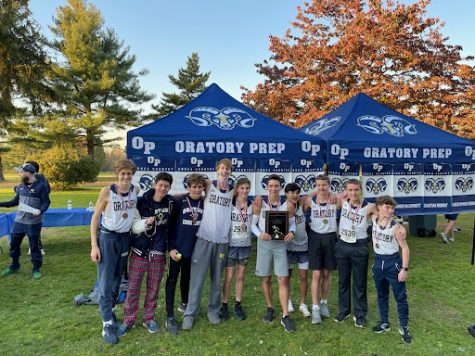 As for the JV rams, top performances were run by sophomore Austin Knight and Senior Brendan Milton who both ran a time of 19:59. The rest of the JV scoring 5 consisted of Junior Rome Brachfeld (20:10), Freshman Shane Costalos (20:16) and Junior first year runner, Sam Rothman (20:54). The JV season will come to an end on October 29th at the New Jersey Catholic Track Conference (NJCTC) Championships. Varsity will also compete at NJCTC's as it is senior night, and they will look to defend their title, considering OPXC won this meet just last year.