Ballon d'Or: Football's Best Player
This year the Ballon d'Or felt a little different, without seven-time winner Messi on the official shortlist. In years past fans were left upset as they felt like certain players were robbed. This year, however, the voters nailed it by choosing Karim Benzema who undoubtedly deserved the award.
Benzema had a fantastic season winning the UEFA Nations League with France, the Supercopa de Espana, La Liga, and the Champions League, as well as his team's success Benzema played a crucial role in all these tournaments getting 44 goals and 15 assists in 46 appearances throughout all competitions and averaging a direct goal contribution every 66.42 minutes. So that's at least 1 goal or assist per game.
In league play, Benzema scored 27 goals and got 12 assists meaning he was directly responsible for 48.7% of all of Madrid's goals. Also adding to his amazing season were 10 goals in the champions league group stage. That might not sound that impressive but that total puts him up with Ronaldo for most purposes in a single campaign. Benzema managed to be the fourth-ever player to be the top scorer in La Liga and the Champions League.
There were some notable nominees like radio man who finished second in the voting, Kevin de Bruyne who finished 3rd, Lewandoski who finished 4th, and Mohamed Salah who finished 5th. Can't forget Mbappe and Haaland but both players finished outside of the top 5. Salah, De Bruyne, and Sadio had fantastic club seasons and contributed heavily. But Benzema succeeded on the club level and international level as well as netting 44 goals which are insanely impressive.
Other notable awards from the ceremony included the female Ballon d'Or which went to Alexia Putellas. There was the Kopa trophy (best Under 21 player) which went to Gavi (underserved not even the best U 21 player on Barcelona, Pedri and Ansu Fati>>>>>>). There was also the Yashin trophy (best goalkeeper) which went to Madrid's Thibaut Courtois. Last but not least there was the club of the year Manchester City (didn't even win the Champions League, this was definitely rigged. Wycombe Wanderers should have won this award).
Overall, Benzema had a fantastic season and deserved the award. 44 goals and 15 assists in 46 appearances is no light feat for a striker (Haaland will, unfortunately, dismantle this record he already has 15 goals in 10 games. They call him the man-child for a reason).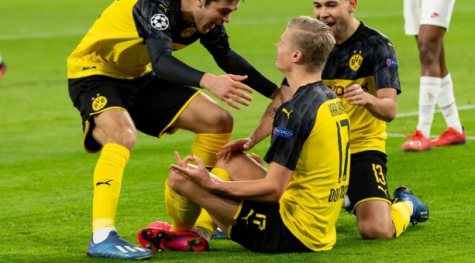 Way too early Ballon d'Or 2023 prediction: as of right now 10 games into most leagues it's hard to judge, but no one is on fire like Haaland. 15 goals in 10 games. He is on pace to destroy the Premier League record set by Andy Cole with 34 goals in 1993-94); it's hard to bet against Haaland as he's shown no signs of slowing down.