The Goal Post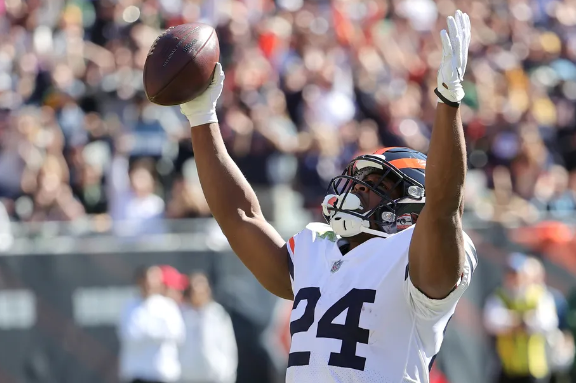 Fantasy football has been a favorite hobby of mine for years now. I've played in multiple leagues, with different formats. Not only is it fun to compete on a weekly basis with friends and family, but fantasy football has been a great way to make new friends and keep in touch with people I don't see on a regular basis. My intent for each Goal Post article is to provide the fantasy football-playing students at Oratory Prep with waiver wire and free agent player pick up ideas and identify deep sleeper players, that can help you win your leagues in the following weeks. Remember, fantasy football is for fun, and the information provided in these articles is not intended to be used for any gambling purposes!
This article assumes the following:
Full Point Per Reception (PPR) Scoring.
Rankings via the ESPN Fantasy App.
On to my picks!:
Fantasy Football Waiver Wire / Free Agent, and Sleeper Pickups for NFL Weeks 4-6:
Injuries as of late have been hurting teams (in reality and fantasy) badly. Injuries to David Montgomery and D'Andre Swift at the running back position, and Keenan Allen at wide receiver, for example, have forced teams to rely on other, backup, players. The following players may fill holes in your starting lineup in the long run, and at least are good bench or flex options, for the next few weeks of the season: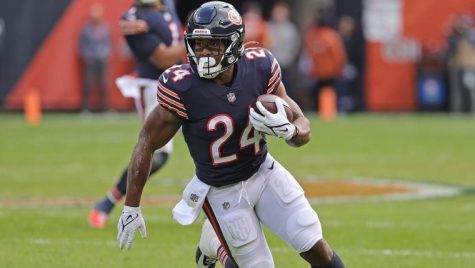 Running Back (Position Rank 9th) Khalil Herbert:  A great running back with or without David Montgomery, Khalil Herbert of the Bears is a great flex option and a potential RB1 or 2 in the coming weeks. Herbert had 11.3 points against the 49ers (43 total yards, 1 reception, and 1 touchdown) and 5.1 against the Packers on Sunday Night Football (41 total yards and 1 reception). It seemed like he was going to decline, but when Montgomery got hurt during the last game against the Texans (Bears won 23-20), Herbert got many more carries and ran for 157 yards, had 2 receptions for 12 yards, and rumbled into the end zone for 2 touchdowns, getting the most points for a running back in week 3 (30 points). With David Montgomery likely to miss this week's game against the Giants, and maybe more games, expect Khalil Herbert to be running wild in this offense, and likely scoring 15+ fantasy points a game.
Honorable Mention: Jamaal Williams (Lions)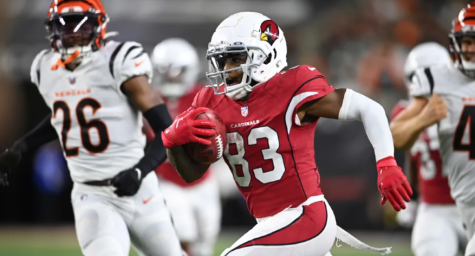 Wide Receiver (Position Rank 19th) Greg Dortch: A heavily underrated player and easily one of the best waiver wire wide receivers you can pick up at this point, ex-Jet Greg Dortch (now playing with the Cardinals) is a great bench and flex option for your team. Dortch has double-digit point totals in all of his games, 13.3 against the Chiefs (7 receptions for 63 yards), 15.5 against the Raiders (4 catches for 55 yards and a touchdown), and 17 against the Rams (9 receptions for 80 yards). With the injuries to Rondale Moore and A.J Greene and the DeAndre Hopkins suspension, expect Dortch to continue getting most of the receptions and to put up 10+ points a week so long as the other Cardinal wide receivers are on the sideline.
 Honorable Mention: D.J. Chark (Lions)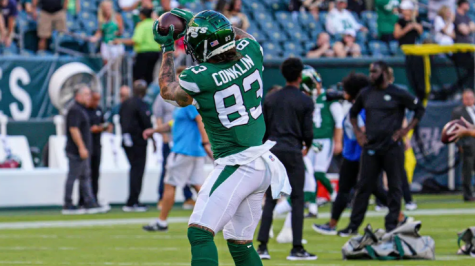 Tight End (Position Rank 3rd) Tyler Conklin: Tight end has been a wasteland thus far this season, with only Travis Kelce and Mark Andrews putting up big totals for their teams. That means we have to dig deep into the waiver wire to find value. One of the most underrated (and unknown) tight ends in the NFL, Tyler Conklin of the Jets, has been racking up double-digit points since week 1 (11.6 points against the Ravens (4 receptions for 16 yards, and a touchdown), 10 points against the Browns (6 receptions for 40 yards), and 16.4 points against the Bengals (8 receptions for 84 yards)). With quarterback Zach Wilson expected to be back in the lineup in week 4, many fantasy owners won't know what to expect from this Jets team in the next few weeks – but you can expect Conklin to continue to pile up points – especially so long as the Jets' other tight end, C.J. Uzomah remains out with an injury. 
Honorable Mention: Will Dissly (Seahawks – deep sleeper)
Quarterback (Position Rank 11th) Jared Goff: A quarterback who struggled mightily last season, the Lions' Jared Goff is making a rebound and it's a very big one. He's thrown his way to 15.5 points against the Eagles (215 passing yards, 9 rushing yards, and 2 touchdown passes), 26.04 points against the Commanders (256 yards and 4 touchdown passes), and 13.88 points against the Vikings on Monday Night Football (277 passing yards and a touchdown)). As the Lions will be playing mediocre defenses in the coming weeks, Goff could find himself slinging footballs to his favorite targets, Amon-Ra St. Brown and D.J. Chark, for 20+ points per game. Not bad for a quarterback that was supposedly on the downturn last season – especially in a Superflex league format where Goff is an easy-to-play QB2 at worst. 
Honorable Mention: Marcus Mariota (Falcons)
Leave a Comment