Rambotics Team Season Recap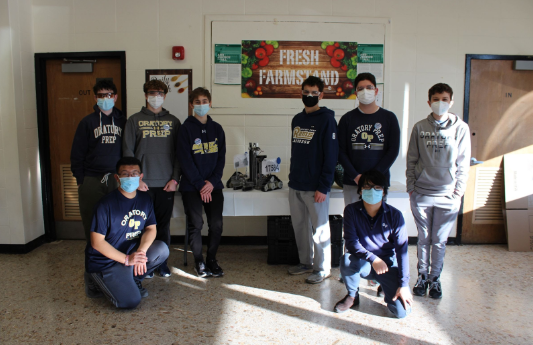 The Rambotics' season has come to an end but there are plenty of positives to look back on. With the help of moderators Mr. Gordon and Mrs. Monczka, the seniors did an outstanding job to get the club up and running once again. There were a few major setbacks, especially with COVID restrictions and not being able to meet last year. However, the Robotics Team had a successful club fair at the beginning of the year, drawing a lot of new attention to the club. It is also worth mentioning that this year was a successful rebuilding year. Older and more experienced members got younger students familiar with robots and introduced them to how the club operates. As a member who was taken under the wing of these great members, I want to thank them for everything they have put into OP's Robotics program. They all spent extra hours working on the robot after school before meets.
The Rambotics Team also worked with old equipment which made it even harder to get a working robot on time for meets. However, thanks to the OP Parent's Guild and their generous grant, we were able to purchase entirely new equipment. We should see a lot more success in the years to come with these new and improved parts.
As meets have come to a conclusion, the Robotics Team has dedicated their time to put together the new robot. This allows new members more time to develop their knowledge and skill on robots without being rushed by upcoming meets. In an interview with senior captain Jack Devine, he said, "I feel very proud when our team is able to put something together that succeeds because it makes me realize and appreciate everyone's hard work." In addition, the Rambotics now have a logo thanks to senior member Nick Carobene who designed it. This logo was available for purchase during CWP in the form of a sticker and its sales did really well.
The seniors will be missed next year because they made every meeting enjoyable and brought something special to the table from the very beginning. All in all, the commitment of these OP gents throughout the season serves as an example to the whole school community. Bigger and better things are yet to come from the Robotics team — stay tuned!