A Day in the Life of a Student Ambassador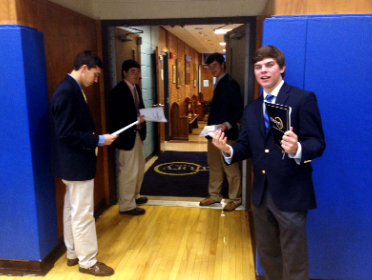 For those who may not know, here at Oratory, students, known as Student Ambassadors, team up with Admissions to serve as tour guides in Open Houses or to host students in our "Freshman for a Day" program. This past fall, we were able to revamp this OP tradition after COVID. As a freshman who has hosted five prospective students, I am going to walk you through a typical day as a student ambassador.
The day prior to the day of the visit, Mr. Boniello makes sure to give you a guy who either attends your old middle school, lives in the same town as you, or even has similar interests as you. On the day of the visit, student ambassadors pick up their students at the front office in DeGaeta. In the beginning, it can be a bit awkward because if you don't know your student personally they might be shy to open up. Eventually, they begin asking more questions about sports, clubs, and classes in general. The teachers always introduce themselves before each class and some of my students even contributed to class discussions. Typically, most visitors enjoy lunch here because of our wide variety of food options. It is the ambassador's responsibility to show his students around and what Oratory is all about. For many students, this visit can be the deciding factor as to whether they want to come here or not. Students get a hands-on experience of the OP brotherhood and the classroom environment.
Overall, being an ambassador is a memorable experience because you get to show a younger student what a typical day looks like for a freshman. Freshmen are able to take on the leadership role of representing our school for these prospective students. Most freshmen will have at least 1 or 2 guys during the fall and I highly recommend for all freshmen take the opportunity to host future OP gents.